Rehashing old Bollywood songs is passé, hear the tunes in titles now
The titles of a number of films this year are inspired from songs such as Ek Ladki Ko Dekha Toh Aisa Laga, De De Pyar De, Dream Girl, Pal Pal Dil Ke Pas, Bhangra Paa Le…. Filmmakers, actors, directors and trade analyst decode the trend.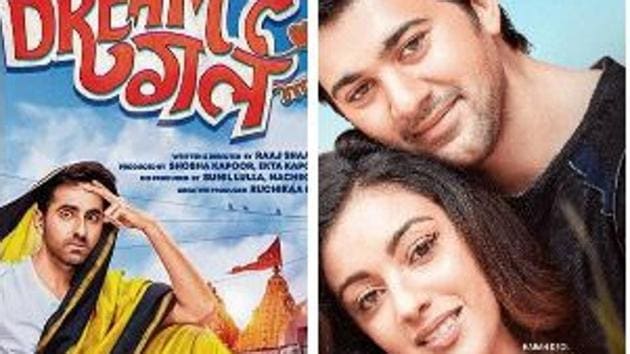 Updated on May 16, 2019 04:31 PM IST
Remaking classics with a modern spin or rehashing hit songs of yesteryear, Bollywood filmmakers seem to love experimenting with old wine in a new bottle. The latest trend seems to be picking classic numbers and using them as film titles. Ek Ladki Ko Dekha Toh Aisa Laga, De De Pyar De, Dream Girl, Pal Pal Dil Ke Pas, Bhangra Paa Le, Radha Kyun Gori Main Kyun Kaala, Jawani Janeman and Bole Chudiyaan — enough examples this year alone to make you run out of breath.
Read: Censor board replaces alcohol bottle with a bouquet of flowers in De De Pyaar De, suggests 2 more cuts
Recall value
While some say it has instant recall value, others opine that makers find it easier because the songs are already there, or that the names go with the theme of the story. Tabu, who will be seen in De De Pyaar De, feels such titles draw viewers' attention. "They are embedded in your mind, there's a whole generation that has heard that song. There's that recall value. Plus it makes the title sound rhythmic and anything unusual strikes a chord with the audience," she says. Trade analyst Atul Mohan concurs, "Having such titles helps promote the films, too, as they connect with the audience easily and makers cash in on the ready-made publicity."
A passing trend?
Trade analyst Joginder Tuteja feels the trend is temporary. "In between, there was a trend of tagline and a lot of films were coming up with it. So, this is also one such trend that isn't new. But this year, it has definitely caught up. What now needs to be seen is whether the makers have used them appropriately and what new are they offering story wise."
Anil Nagrath, secretary of the film title approval committee of Indian Motion Pictures Producers' Association, also feels that this is a legit trend that has people cashing in. "If one film works with such a title then others will also follow suit. It's called the herd mentality," he says, adding that makers are consciously taking the easier way out since 'good' titles are mostly already registered.
And since a good title, trailer and poster lay a strong foundation for a film's success, Mohan explains, "When the title, which is the window to a film, is taken care of, a lot is sorted. Now everything boils down to how good the story and its representation are."
Goes with the theme
Some also feel that these titles go with the theme of the story. "We thought of using Bhangra Paa Le as the title of film since the story revolves around dance. So, if the title is inspired from a song that makes you dance, why not choose it? Also, the song was a part of Karan Arjun (1995) and the music of the film was produced by Ramesh Taurani's Tips and now when his daughter Sneha Taurani is making her foray into films as a director, they thought of using the title of this famous song," says a spokesperson from RSVP, producer of Bhangra Paa Le.
Filmmaker Shelly Chopra Dhar says the reason she chose Ek Ladki Ko... was not just because of the Anil Kapoor connect but also as this time the perspective is different. "It's a love story with a twist, hence the context is new. So, that was our focus."
Author tweets @Shreya_MJ
Follow @htshowbiz for more
Close Story