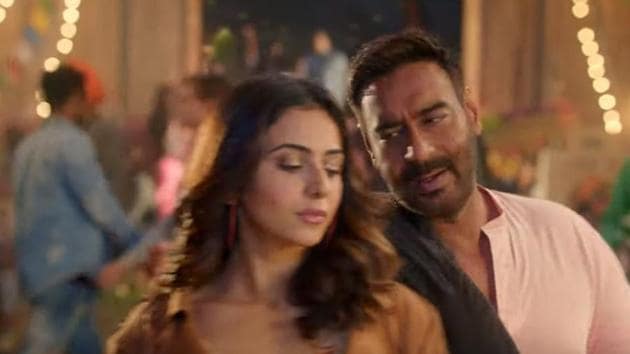 Censor board replaces alcohol bottle with a bouquet of flowers in De De Pyaar De, suggests 2 more cuts
Awarding U/A certificate to De De Pyaar De, the CBFC asked for three visual cuts in the Ajay Devgn-Tabu starrer film including replacing an alcohol bottle with a bouquet of flowers. Read on for details.
UPDATED ON MAY 15, 2019 05:43 PM IST
Bollywood's upcoming film starring Ajay Devgn, De De Pyaar De, has been awarded the coveted U/A certificate, after the Central Board of Film Certification (CBFC) suggested three cuts in the original edit of the movie that also stars Tabu and Rakul Preet Singh in lead roles. Directed by debutant Akiv Ali, the film is slated to hit theatres on May 16.
As per the CBFC, the first cut comes at just 10 minutes into the film. The visual of the heroine holding "alcohol bottle" has been replaced with those of her holding a flower bouquet. Similar visuals in the song Vaadi Sharaban that comes around three minutes later, have also been modified.
Also read: Sunil Grover says he does not watch Kapil Sharma Show. Here's why
The second deletion appears around half way into the movie. The dialogue 'performance better hoti hai' has been deleted, along with the corresponding visual.
The third and final cut comes just a few minutes later and the visuals and dialogue "Manju ji ke aalu O ho ho …wahi ache hain.." , "ki yeh sab jhoot hain" have been deleted.
De De Pyaar De has been at the centre of controversies the day the first trailer landed. First, it attracted flak for retaining actor Alok Nath in a key role; the actor was accused in Me Too campaign. Later, the promos and songs attracted online wrath for being misogynistic in nature.
Ajay defended himself on Alok Nath's involvement in the film, saying, "This film was supposed to be an October 2018 release. The shoot of the film got over by last September. The portions with Mr. Alok Nath were canned by August in Manali. The said portions were shot over 40 days across various sets and an outdoor location with a combination of over 10 actors. By the time the allegations came out (in October 2018) the actors in the film including me had already started work on other films. It would be near impossible to get all the dates and combinations of the several actors in the film and attempt a re-shoot with some other actor replacing Mr Nath. It would also have been a huge monetary loss for the producers. Everyone is aware that film-making is a collaborative process."
Tabu, on the other hand, told Mid Day, "Akiv [Ali, director] has offered an interesting take on relationships. Once you see it in the context of the film and not just the trailer, things become a lot clearer. The movie hasn't been made with an intention to be sexist. In fact, the female characters in the film are strong; they take a stand and make their own decisions. So I'd like people to watch the movie and then comment."
Follow @htshowbiz for more
Close