EXCLUSIVE | Sonakshi Sinha: What are you abusing me for? Being an actor or being born to a particular set of parents?
Stating that the anger against star kids is misdirected, actor Sonakshi Sinha — who's spearheading the anti cyber bullying initiative AbBas — asserts that just because actors aren't being vocal about it doesn't mean they don't want justice for late actor Sushant Singh Rajput.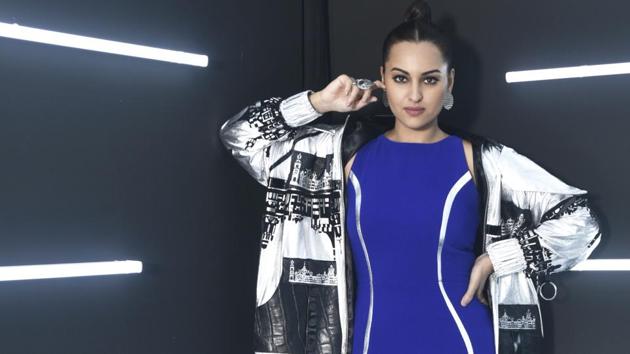 Updated on Aug 15, 2020 11:57 PM IST
Hindustan Times |
Monika Rawal Kukreja
Having stayed away from Twitter for almost two months, Sonakshi Sinha admits her life has "changed for the better" and she has "no plans of coming back on the platform anytime soon". In an exclusive conversation with Hindustan Times, the actor talks about what made her quit the social media platform, the raging nepotism and insider vs outsider debate, attacks on star kids' and their films, mental health concerns, and spearheading AbBas, an initiative against social media bullying.
How have the last two months been — did you miss the buzz or enjoyed staying away from all the toxicity?
More than the buzz, it was a buzz kill. Twitter has become such a playing ground for negativity with people going on and on about anything and everything and in such a gutsy manner. It's not something I'd want in my life, anyway. Also, we spend more time on the internet than in real, so I think they should really be cleaned up, and which is why I got off it. My life has changed for the better, it's much cleaner, so I have no complaints. And I've also put my comments off on Instagram.
But is quitting a social media or restricting comments, a long term solution to keep trolls at bay?
Social media, for me, has always been a way to connect with my fans. And I've always put out the things that I want to share with the world. But there's so much of uninvited negativity. I'm really okay without that. However, I feel sad because so many of my fans have been cut off, there's no interaction anymore with them, but I've to safeguard myself, too. Today, I'd want to tell young people, all young boys and girl, who're impressionable, that your life is not successful because of the number of likes, followers and the validation that you get on the internet.
Are you planning to come back anytime soon?
No. I'm actually happier because I have one less social media account to manage (laughs).
In between, you came up with this anti cyber bullying initiative — AbBas. What was the trigger?
You see people have been at home for five months now, and there's a lot of frustration that's coming out on the internet. So, it seems like a very gradual buildup of hatred and negativity online. That's really what kind of drove me to do this. I firmly believe that if something can't be said to someone's face — because there'll consequences — people need to know there are consequences even if you say it online. So, I wanted to make people aware that if there's someone treating you in a certain way online, action can be taken against them, and you can safeguard and protect yourself. For the longest time, even I've been ignoring or blocking such people, but it's time, as it's really getting out of hands. Forget being an actor, nobody should be subjected to that kind of behaviour or threats at all.
So what is that people facing cyber bullying should ideally do in such a scenario?
They're already reporting on the platform, but honestly, I think it's still not strong enough a thing to do because even if you report a person and the account is deleted, they can make another account and come back. But if the harassment is of a level where it's mentally traumatising you, affecting you and your circumstances, at home or family, and your mental state of mind, then you must complain to the police, They have a cyber cell and the culprit can be convicted for three to seven years, which majority of people don't even know. Since the time we've started this initiative, informing the people of the things that can change and the consequences, we've noticed that from thousands of trolling comments and abuses, it has trickled down to like three or four. So, I think it's really important to create the awareness, and just instil that fear of God in these people that they can't get away anymore.
We're seeing this tendency on social media that star kids are being mercilessly trolled, more so with the insiders vs outsiders debate raging. How fair is that?
Nobody likes to hear abuses about themselves for what — for being actors? For being born to a particular set of parents? I'm sorry! Where's the logic in that? It's been blown so much out of proportion. Has anybody really counted — today there are more outsiders than so called insiders in the industry, who have made it very big and have lots of work, more than people who're grown up in any film family. Why nobody raises that point? So, there's a lot of misdirected anger about a lot of things, a herd mentality and people are being 'bhadkaoed'. One person said something, and the whole world starts attacking star kids without putting any sense into it. Okay, fine, being related to a film family can help in that first meeting or that first audition or that first film. But, after that, what? This this whole hullabaloo about, 'Oh, somebody can make or break someone', I'm sorry, nobody can make or break anyone except for the audience. We're all here today because our audience has accepted us to some extent whether it's an insider or an outsider. We respect that. If audience doesn't accept a person, his career won't go anywhere. So, it's sad to attack star kids... we work hard and put in as much hard work as anybody else.
As someone born into a film family, how do you look at this whole nepotism debate? Have you ever used your last name to make your way into a film or deprive someone else of a chance?
See, it might be happening (in Bollywood), but it happens everywhere else as well. The word nepotism isn't only limited to the film industry. Today, a businessman will hand over his business to his son, and not to a random person based on merit, no matter how good he is, his family would come first. And I find it so amusing that this word nepotism has been introduced and sensationalized by a person whose sister is managing their work. And I don't think I really want to give it that much more importance. Having said that, my father (Shatrughan Sinha) has never picked up the phone and called any producer to say, 'Take my daughter in your film'. I was offered Dabangg (2010) because yes, my family knew Salman Khan's family, but that's it. They saw me, thought I'll fit the role, and I was offered the film. After that, I had to work very hard. I've always been very punctual. I have a very good work ethics and the audience accepted me. These are the four things that have helped me sustain a career for ten years right now.
What about films of star kids facing flak, for instance Gunjan Saxena: The Kargil Girl, received backlash and Sadak 2 trailer became the most disliked?
These people are calling out young girls — Ananya Panday, Alia Bhatt, Janhvi Kapoor, Sonam Kapoor — imagine what they'd be going through. It's just not nice. Though I know they're very strong girls and are keeping their chin up and sailing through it, so I'm happy about that.
I understand people are hurt right now, and I get it they need to vent somewhere. But some people don't even understand the word nepotism. It actually means giving your own family more favour than a person who's not from the family. All the people being attacked for nepotism were not even launched by their families, so it's bizarre what's happening.
You also have a film coming up, Bhuj: The Pride of India — are you scared of facing similar backlash?
It's a film about the 1971 war, glorifying the role of a very brave Indian. If people decide to boycott a film like that, that says a lot about them, and not really the film. And you may like or not like something, but why are you asking others to hate something you don't like? That, I don't understand. I'm very proud of being a part of the film like this, and I'm sure people will love it because it's a story about India that needs to be told.
Does such trolling and bullying get too much to handle at times?
Of course, it's a lot of negativity to be subjected to, and it makes so many people turn against you for really no fault of yours. It doesn't feel good, and it does affect people's mental health. It has just become really, really sad. I'm not liking the current state of affairs at all.
The scenario right now is such that everyone is thinking twice before speaking or putting up anything on social media. Do you find this a needless pressure created on celebs, by trolls?
I don't understand why people have so many expectations of you, and if you're not complying to what they're saying, feeling or thinking, you end up getting trolled. This is something that needs to stop. I feel it's about time we all create some awareness about this, and work towards changing this.
Interact with the author on Twitter @monikarawal
Close Story