Sonali Bendre diagnosed with high grade cancer, says she's determined to fight every step of the way
Jul 04, 2018 04:55 PM IST
Actor Sonali Bendre has said that she has been diagnosed with high grade cancer that has metastised. She is undergoing treatment in New York at present.
Bollywood actor Sonali Bendre Behl has been diagnosed with high grade cancer, the actor said on Instagram and Twitter on Wednesday afternoon. She added that she is undergoing treatment in New York and has her family and friends to support her. After her statement, many of Sonali's Bollywood colleagues wished her speedy recovery. Actor Akshay Kumar, who worked with Sonali in Once Upon A Time In Mumbaai Dobara, told HT that after hearing of her ill health, he met her in New York. He told us: "I know that Sonali is a fighter. May God help bring her back in the best of health!"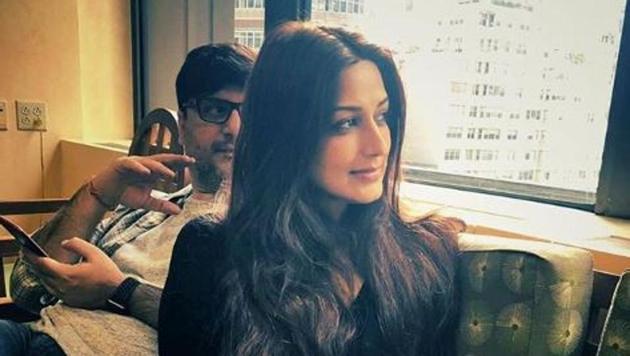 In a statement on Twitter, she wrote, "Sometimes, when you least expect it, life throws you a curveball. I have recently been diagnosed with a high grade cancer that has metastised, which we frankly did not see coming. A niggling pain led to some tests, which led to this unexpected diagnosis. My family and close friends have rallied around me, providing the best support system that anyone can ask for. I am very blessed and thankful for each of them." More details are yet to emerge but it's believed that her husband, film-maker Goldie Behl, and other family members are constantly by her side.
"There is no better way to tackle this, than to take swift and immediate action. And so, as advised by my doctors, I am currently undergoing a course of treatment in New York. We remain optimistic and I am determined to fight every step of the way. What has helped has been the immense outpouring of love and support I've received over the past few days, for which I am very grateful. I'm taking this battle head on, knowing I have the strength of my family and friends behind me," she added.
Her Bollywood colleagues called her a fighter and a solid soul. Karan Johar was among the first to comment, "Godspeed, love and strength to a true fighter and a solid soul!!!."
Manish Malhotra also commented on her Instagram post and wrote, "Wishes and strength and love with you Sonali." Her Hum Saath Saath Hain co-actor Neelam Soni commented, "You are the strongest girl I know. My superwoman."
When cancer spreads to different parts of the body, it is called metastatic cancer.Cancer can spread regionally to nearby lymph nodes or to tissues and organs. And it can even spread to different body parts. When this happens it is called metastatic cancer.
Sonali made her Bollywood debut in 1994 with Govinda's Aag. She went on to rule Bollywood during 90s and early 2000s, with films such as Sarfarosh, Duplicate, Major Saab, Hum Saath Saath Hain, Diljale and English Babu Desi Maam. Her song, Humma Humma, in Bombay was one of the most iconic in the 90s.
Since 2013, she has been working for the small screen in shows such as India's Best Dramebaaz, India's Got Talent and Indian Idol. She also made her soap debut on TV.
She was recently replaced by Huma Qureshi on her show India's Best Draamebaaz.
Follow @htshowbiz for more