'I love flawed characters,' says actor Shabana Azmi
Updated on Mar 05, 2016 08:57 PM IST
Actor Shabana Azmi names the actor she sees herself in, talks about her memories with the late Farooq Sheikh and things she's been wanting to do for the longest time.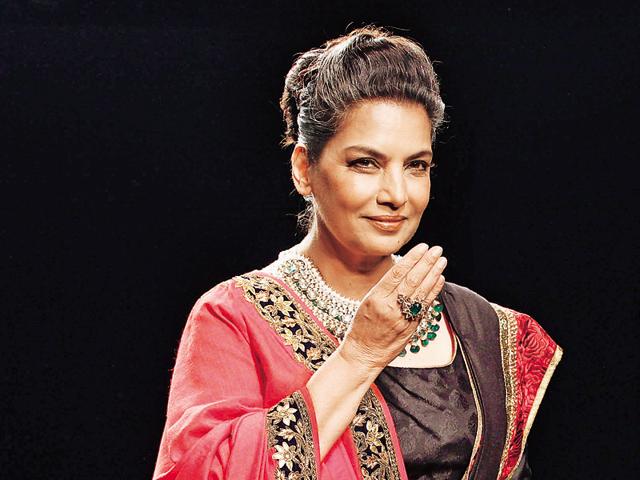 Birthday: September 18
Place of birth: Hyderabad
Sun sign: Virgo
Hometown: Mumbai
School/College: Queen Mary School, St Xavier's College
Low point of your life: Too many to recollect
High point of your life: Winning three National Awards, three of them in a row
First break: Faslah (1974), while I was studying at FTII (Film and Television Institute of India)
Currently I am: Apart from working on films, I am also running my NGO Mijwan Welfare Society
You worked with Sonam Kapoor in Neerja. What was it like?
We are like an extended family. I remember when Sonam was a kid, Anil asked me to convince her against becoming an actor. I am glad it didn't happen.
One thing about Bollywood that has changed over the years.
The advent of casting directors has brought in freshness to the characters. Earlier, you had fixed actors to do stock roles. Today, they take around 200 auditions to find the right guy.
A character you think you wouldn't have been able to play.
Ila Arun's character of a superstitious mother desperate to get her daughter married in Welcome To Sajjanpur (2008). She was extraordinary as Ramsakhi Pannawali.
If you, Javed, Farhan and Zoya Akhtar had to make a film together, what would it be about?
Food! We're constantly talking about food. Nashta khatam hua ki we're discussing what we'll have for lunch, and while having lunch, we are discussing dinner. Javed would write the script of the movie, Zoya would direct, Farhan and I would act
An actor you see yourself in
Vidya Balan
You've worked with Satyajit Ray. What's that one thing about him that not many people know about?
He had different systems for working with everyone. In Shatranj Ke Khilari (1977), he gave complete freedom to me and Saeed Jaffrey. But he was restrictive with Sanjeev Kumar.
You were very close to the late Farooq Sheikh. One memory with him that cracks you up.
Once, we had gone to pick up some props and came across a beggar. He gave her eight annas and she said, 'Allah aap ki jodi salamat rakhen'. He immediately took the money back and said, 'Arey aisi baddua kyun de rahi ho.' He never said a kind word to me! But when I needed him, he stood by me like a rock.
A popular misconception about you and Javed Akhtar.
That he has written the song Ek Ladki Ko Dekha for me!
A piece of advice from your father, Kaifi Azmi, that you hold close.
He once told me that when you want to bring in some change, you should be aware that that change might not come in your lifetime. But if you keep working towards it, the change will eventually come.
What would make for an ideal Sunday?
Getting all generations of the family together and spending time with them, starting from lunch to dinner, with a cricket match or a movie thrown in.
One thing you've been wanting to do for the longest time.
Cook. At the moment, my culinary abilities are such that if you ask me to just stand and keep a check on the food you are cooking, by the time you are back, it will be burnt.
Three people from history you want to invite for dinner.
Indira Gandhi, I find it fascinating how a woman can have such a mixture of vulnerability and ruthlessness, Princess Diana and Mahatma Gandhi.
One thing you can't stand.
I get annoyed when people say 'whatever' or 'you know what I mean'. How am I supposed to know what you mean if you don't put it in words?
The motto of your life.
Play the game. It isn't important that you play to win, but you must play it.
The last line of your autobiography would read...
"She wasn't afraid of risking failure."
*
My favourites:
Cult film: Gone With The Wind (1939)
Poet: Faiz Ahmed Faiz. His book Saare Sukhan Hamare is my favourite
Character you've played: Amrita in the play Tumhari Amrita. I love flawed characters
Dish: Biryani
From HT Brunch, March 6, 2016
Follow us on twitter.com/HTBrunch
Connect with us on facebook.com/hindustantimesbrunch
Close Story
Personalise your news feed. Follow trending topics