Pour me a Champagne cocktail
When it's time for bubbly, why not take things up a notch with a cool cocktail? Here are a few recipes to make champagne cocktails at home.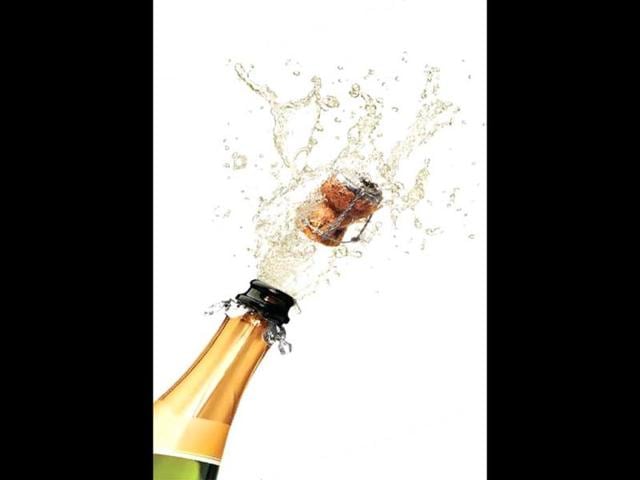 Updated on Dec 21, 2013 06:16 PM IST
Hindustan Times |
Veenu Singh, photos by Deepak Budhraja
As with most cocktails, the better the quality of the spirit, the more you'll enjoy your drink. But when the spirit in question is champagne – that sparkling, crisp liquid gold that's already the best that money can buy – how do you make it even more special?
Simple, you bring in the best man for the job.
Douglas Ankrah, drinks and beverage specialist (oh, he's much more than a bartender) has earned his stripes by making cocktails cooler with London's hip set. Ankrah, who has visited India to shake up a storm at our bars, had his work cut out for him.
Champagne-based drinks aren't new. They've been around for almost as long as champagne's been around – 300 years. Champagne punch recipes calling for brandy and orange liqueurs have shown up in old cookbooks dating to the 1860s.
Proper champagne cocktails, however, probably bubbled into our lives in 1861, when England went into mourning for Prince Albert and a London bartender put a black spin on the drink. He blended it with Guinness stout to make a Black Velvet, creating one of the first champagne-based mixes.
The first recipe for a champagne cocktail, as it were, dates to Jerry Thomas' The Bar-Tenders Guide from 1862. Thomas recommended we fill a tumbler a third-full of broken ice. Pour in champagne, half a teaspoon sugar, two dashes of bitters, a piece of lemon peel. Shake. Serve.
Shake. As in, cause a minor explosion by agitating a carbonated drink! Later recipes amended the method by omitting the shaking bit – but no one knows for sure how many accidents those early cocktails might have caused.
Regardless, it seems people really liked the taste of the sweet-sharp champagne drink. Mark Twain mentioned it in his 1969 work Innocents Abroad. And in 1889, the bubbling cocktail finally had its shining moment when a man named John Dougherty added brandy to a champagne cocktail and won the New York cocktail competition. Today, almost anything can go into a great-tasting champagne cocktail.
The secret to crafting a great drink is in the order of assembly. Most recipes get you to add the spirit slowly and only as the final step (it's called charging). Don't try to be 007. Don't shake. Don't stir. As with most of life's finest luxuries, take your time and enjoy the moment – that's the spirit.

From HT Brunch, December 22

Follow us on twitter.com/HTBrunch
Connect with us on facebook.com/hindustantimesbrunch
Close Story
Personalise your news feed. Follow trending topics