The love story of Anita and Mohan Rakesh
Updated on Mar 14, 2016 01:39 PM IST
Anita Rakesh, widow of Mohan Rakesh, looks back at how she fell passionately in love with one of Hindi literature's most brilliant writers.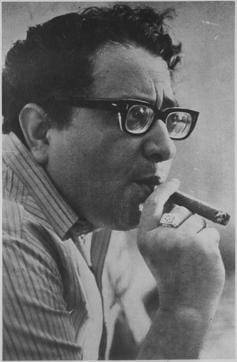 It isn't easy to find Anita Rakesh's house in Delhi's crowded, busy East of Kailash area and I reach more than half an hour late. She is sitting in her room on her bed, wrapped in a blanket, a tiny TV flickering in front of her with the sound turned off. On the wall is a framed black and white photograph of a laughing Mohan Rakesh, head thrown back in abandon.
Seventy four year old Anita is Rakesh's widow. They married in 1963 and he died in 1972 at the cruelly young age of 46. She barely got nine years of marriage with him. In his short life, the hugely talented Rakesh wrote at least three great plays, an equal number of memorable novels, dozens of short stories, apart from travelogues and diaries. I have been discovering his works afresh: the distressing but startlingly evocative novel Andhere Band Kamre, which chronicles Harbans and Neelima's painful marriage against the backdrop of Delhi in the early Fifties. His short stories, all so different from each other, whether it is Miss Pal, about a lonely woman living in the Kulu mountains, or the rightly famous Malbe Ka Malik, where the tragedy of Partition is laid bare so starkly.
We talk over steaming mugs of coffee; she talks about her marriage with Rakesh, his temperament, his talent, how so many of his books and stories are autobiographical or based on real people he knew. I feel as if I'm getting alluring glimpses of an intriguing, complex man, and nostalgia-inducing flashes of another era, the 1950s and '60s, in which Hindi literary and theatre legends – Kamleshwar, Rajendra Yadav, Mannu Bhandari, Bhisham Sahni, Dharamvir Bharati, Neimichandra Jain, Shyamanand Jalan, Satyadev Dubey, and many others – flit in and out almost like mythical figures.
Though more than four decades have passed since Rakesh died, Anita says she never feels her husband has left her. Perhaps that's because of their turbulent courtship and the intensity of their relatively short marriage. Anita gives me a book she wrote, Satrein Aur Satrein, to read. It is the story of her life and was first serialized in the Hindi magazine Sarika, and subsequently published as a book in 2002.
I stay at Anita's flat till late in the evening. When I get home that night, I open Satrein Aur Satrein. I read more than half the book at one go and stop only because my eyes start hurting. Anita has told me some of it, but as the whole story unfolds in front of my eyes, I feel very moved.
I try and imagine what it must have been like: A young girl and her brother, the children of a refugee family from Pakistan, growing up in a hotel in Delhi's Civil Lines, where they had all been temporarily accommodated after Partition. A dysfunctional family, with the father around only intermittently and a mother who was distant and affectionate in turn. The one thing Anita remembers clearly is her mother, Chandra Aulakh's obsession with reading Hindi literature and meeting famous writers. Bedtime stories for the children meant Chandra narrating whatever she had read that day. Anita has childhood memories of writers like Agyeya and Bhagwaticharan Varma dropping in to visit them. Chandra herself had literary aspirations which, unfortunately for her, remained mostly unfulfilled in her life, though she made strenuous efforts to promote her work.
*
Anita first heard of Mohan Rakesh when she was just eight years old. Chandra would read out his stories to her children and Anita remembers two of them particularly – Ek Chhoti Si Cheez and Ek Pankhyukt Tragedy. Rakesh was already an emerging literary star, having published a collection of short stories that included gems such as Phata Hua Joota, Malbe Ka Malik and Naye Badal. Her mother had never met him but was desperately keen to. However, he lived in Jullundur and Shimla and Chandra was in Delhi. She was eager to know what he looked like and was told he was handsome young man in his early twenties -- fair-skinned, bespectacled, with curly hair.
The financial condition of the Aulakh family -- always precarious – took a turn for the worse and Chandra and the children were packed off to Jullundur, while Anita's father went to Gwalior to set up a business with a partner.
Chandra arrived in Jullundur in 1958 for a few months. Immediately, she set about trying to locate Rakesh who was the head of the Hindi department at the city's DAV College those days. But she discovered that he had quit his job and moved to Delhi. This was frustrating! When she was in Delhi, he was in Jullundur, when she came to Jullundur, he was in Delhi! Around this time, Rakesh received the Sangeet Natak Akademi award for his play Aashadh Ka Ek Din and Chandra became even more keen to meet him.
The family soon moved to Gwalior. Life went on. One day Chandra found Rakesh's address in a copy of the journal Nai Kahaniyan where he was being published. She began writing to him. Anita recounts that in the beginning her mother probably wrote fulsome praise about his work before slowly maneuvering the conversation around to her own work. Whatever it was, a regular correspondence ensued between the Chandra and Rakesh.
When the Aulakh family came to Delhi for a visit, Chandra made sure they met Rakesh and his wife Pushpa (his second wife, he was separated from his first wife Sushila who lived in Dehradun with their son). She invited them home. That was the first time Anita met Rakesh, little knowing what the future would hold for them.
Even after they returned to Gwalior, Chandra's correspondence with Rakesh and Pushpa (who she always called "very sweet") continued apace. There was a rupture in between when she didn't hear from Rakesh for a few months. Eventually he wrote to her saying that he had resigned from his job (at that time he was in Bombay, editing Sarika) and that he would soon leave for Delhi. And that he was emotionally and mentally a little disturbed because he had just separated from his wife, the woman she had found so "sweet," and the matter was in court now. He mentioned that if she wanted to know about his married life so far, she should read his short story Ek Aur Zindagi.
*
I pick up my copy of Mohan Rakesh Ki Sampoorna Kahaniyan and quickly turn the pages to find Ek Aur Zindagi. It is a grim, unhappy story of a man's fruitless search for happiness in marriage. Prakash's first marriage to the independent Beena ends in separation – somehow they don't get along (is it ego? Beena's 'ambition?' Something else?). He longs to be with his son, Palash, who lives with his mother now. He seeks them out in a cold, foggy hill station and tries desperately to spend as much time with Palash as he can.
We learn that in an attempt to shake off the past, and start a new chapter in his life, Prakash had looked for a woman who would be the antithesis of Beena. Someone simple, someone who would be dependent on him. He met Nirmala, the sister of a good friend of his. Though she was about 27 years old, she looked ten years younger. He thought she would suit him and they got married. He moved into a bigger house, bought new furniture, flowers, to welcome her. Nirmala entered the house laughing but Prakash soon realized that she needed no reason to laugh. She could laugh at anything or nothing at all – if something fell and broke, she would laugh; if someone slipped, she would laugh, and not stop for minutes on end. If Prakash scolded her she would throw herself on her bed, kicking, screaming, crying. Sometimes she would tear her clothes off and hide her jewellery inside shoes. Sometimes she washed clothes all day. Sometimes she spread her hair out and declared she was a goddess.
Nirmala's mental instability shattered Prakash's world and peace of mind completely. The story ends tragically, with Prakash in the hill station, walking despondently in the rain, hearing the sound of little feet behind him. For an instant he thinks – who could it be? Could it be…? But when he turns around, he finds it's only a dog padding behind him, shaking the water from his head.
*
Chandra requests Rakesh to stop by in Gwalior on his way to Delhi from Mumbai. He accepts her invitation. And so it transpires that two and a half years after seeing him for the first time, Anita meets him again. His visit throws the Aulakh household into an absolute tizzy -- the house is freshly painted, all kinds of delicacies are cooked and stored away in jars; once he arrives, everyone tiptoes around the house in the mornings because Rakesh likes to sleep late.
During Rakesh's visit, Anita often feels his eyes resting on her or following her around. One evening, the whole family goes to a cinema hall to see Dil Ek Mandir. Anita sits next to him. Their arms touch. Her handkerchief drops to the floor. She bends to pick it up and accidentally brushes against his feet.
But neither of them say anything or acknowledge that maybe, perhaps, something is igniting between them.
Rakesh leaves Gwalior, goes to Shimla, writes his play Leheron Ka Rajhans, returns to Delhi – and then visits Gwalior again. In this interim, there has been an exchange of letters between them, mostly around some short stories Anita has written.
It is winter now and in Gwalior, Anita is down with pneumonia. Rakesh arrives and goes straight to Anita's room, along with Chandra. Anita is in bed, covered by a quilt. Chandra hurries away to make tea. Rakesh quickly comes up to Anita's bed, bends down, kisses her on her lips and whispers in her ear: "I love you." Over the next few days, Anita and Rakesh find it impossible to be alone together. When they do manage to snatch a private moment, Anita asks him, "Shall I talk to my mother?" He shakes his head.
Later, during another stolen moment, Rakesh tells her that he is a very unfortunate man, she should stay away from his very shadow. She is so young and innocent…
But Anita tells her mother the truth.
"I want to marry Rakeshji."
Chandra thinks she is joking. But when she realises Anita is serious, she is stunned. She jumps forward and slaps her. "He won't even spit on you and you want to marry him!"
"You are saying this because you are jealous of me!" cries Anita.
What follows is a sustained and brutal beating by her parents. This is not the first time Anita has been abused by them. All through her growing-up years both she and her brother have borne ferocious violence, from being repeatedly hit to being chained to their bed all night.
But this time the beating is so severe that Anita loses consciousness and her brother has to call a doctor. Later, he tells Rakesh what has happened.
Anita wakes up at two at night. She stumbles to Rakesh's room. He is sitting in the dark, smoking a cigarette. Seeing her, he takes her in his arms, kisses her all over.
The next day, Rakesh has a long conversation with Chandra. Finally, both of them come to Anita's room and he tells her that she should finish her education and get a job. By then, he would have got a divorce from his wife, Pushpa…
And so the difficult love story continues. Anita's family leaves Gwalior and returns to Delhi. Her parents' violence against Anita continues unabated. Days of pain and separation follow. With her brother's help, Anita and Rakesh are able to smuggle notes to each other. And finally, a tiny silver lining presents itself to her: she is allowed to complete her BA from a private college in Chawri Bazaar. She will be able to escape the oppressive atmosphere at home at least for a little while every day -- from 7am to 11am.
On her first day in college, the first person she meets is Rakesh who has been waiting for her. And a pattern is established. Every day, Rakesh takes a taxi from Karol Bagh to meet Anita at Chawri Bazaar at 6.45am. They go to a nearby halwai shop, since there is no other place where they can sit and talk. But she is always terrified her mother will find out about these secret meetings.
And then one day Rakesh takes Anita to his home. As he shuts the door and bolts it, her heart starts thudding. Then she sees the flower garlands lying on the table.
And that's how Anita and Rakesh get "married." This is the 22nd July 1963.
Anita goes back home. They still have to work out their future.
No one knows about the secret wedding except for Rakesh's mother and his close friend, the writer Kamleshwar.
And then a strange incident happens that speeds everything up, that in a way, takes the decision for them.
Anita is supposed to meet Rakesh -- she wants to tell him about how her parents have found a "boy" for her. At the appointed time, he arrives with Kamleshwar, looking very agitated and worried. An incident has happened. Unwittingly Rakesh has got into an altercation with a local gangster who has threatened to kill him. Rakesh must leave Delhi immediately.
Rakesh wrote a short story about the incident called Ek Thehra Hua Chaaku.
*
I start reading Ek Thehra Hua Chaaku. It tells the story of Bashi who leaves his house every morning to meet Mini in a halwai shop in Ajmeri Gate. Bashi has lassi-poori while Mini drinks Coca Cola (indeed, this is exactly what Rakesh and Anita ordered at their halwai shop in Chawri Bazaar). One day she tells him that a "boy" is coming to "see" her, but she will tell him (the boy) the truth. Later, as they leave, his foot slips but she steadies him and says, "I don't know how you take care of yourself living all alone." Elated by her loving chiding, he abandons his plan of taking a bus back home. Instead he hails a scooter (as autos were known back then) and stops on the way to pick up some ice for ten paise. And that's when Bashi gets into a spat with a local gangster Natha Singh.
The story describes Bashi's fear and uncertainty as he waits in a police station to identify Natha Singh.
*
Rakesh plans to leave for Bombay by a morning flight on Sunday. Anita will leave with him, with nothing except the clothes on her back and her educational certificates.
Anita wakes up on Sunday to a drizzly morning. Her mother asks her to stay back, since it looks like it's going to pour. And anyway, what is the point of going to college now that she's going to get married to the "boy" they have found for her? Anita mumbles that that is exactly why she wants to go.
And she walks out of the house forever.
It is the 29th July 1963.
When she meets Rakesh at the appointed time, he says, "Kamleshwar was wondering if you would chicken out."
"But I had to come," replies Anita. "Today is my day for tutorials!"
They get into the taxi, go to the airport and fly off to Bombay. Rakesh has booked them at Sun'n'Sand Hotel. They check in and go up to their room. Anita goes to the window, draws open the curtains to see the rain pelting down outside. Rakesh walks up to her and says teasingly, "Opening the curtains here is a crime for which you can be imprisoned."
*
And that's how Anita's married life begins. She is not yet 21 years old (she turns 21 on the 3rd August).
It is not easy for someone so young to understand a complex man like Rakesh. He tells her that in his list of priorities, his writing comes first followed by his friends. She is only in third place. At the same time, with two broken marriages behind him, he craves for a home. He often tells her, "I want a home, I have got everything in my life, except a home…"
And the same Rakesh also tells her many years later, "When will you leave my home? You've spoilt my record, I've never lived with a woman for more than two years. But it's been six years now and you're showing no signs of leaving…"
Anita doesn't leave him, but Rakesh does three years later – for good.
*
Though Rakesh died over 40 years ago, Anita says she still talks to him. "Woh mujhe dekh rahe hain," she says simply. "He really understood me. I never had any doubt about running away with him." Rakesh was a sociable person who loved nothing better than be surrounded by his friends. Anita smiles, saying, "He's the one who taught me to have a drink, to smoke. We never had too much money but we had lots of parties." She remembers her first Diwali after marriage in a Matheran cottage, with a big group of friends that included Basu Bhattacharya and wife Rinkie.
When Rakesh died so suddenly, it was a heartbreaking blow for Anita. She was barely 30 years old. Then one day her friend Kamleshwar told her that instead of crying incessantly, she should write about her life with Rakesh. She should let it all out. And that's what Anita did, writing at nights in the kitchen (and killing cockroaches in between!). And that's how Satrein Aur Satrein happened. The name is from a column Rakesh used to write when he was in Sarika: 'Chand Satrein' (A Few Lines More).
The book has a fascinating account of Anita's married life with Rakesh, with all its ups and downs, the birth of their children, and then the trauma of his death, the struggle to build a life for herself afterwards…
But that is another story.
(Satrein Aur Satrein has been published by Rajkamal)
Follow @poonamsaxena_ on Twitter
From HT Brunch, March 14, 2016
Follow us on twitter.com/HTBrunch
Connect with us on facebook.com/hindustantimesbrunch
Close Story
Personalise your news feed. Follow trending topics