Brexit: Britain in or out of Europe, India has money riding
Updated on Jun 24, 2016 08:58 AM IST
'Leave' may force 800-odd Indian companies operating in Britain and employing more than 100,000 people to revamp their investment plans.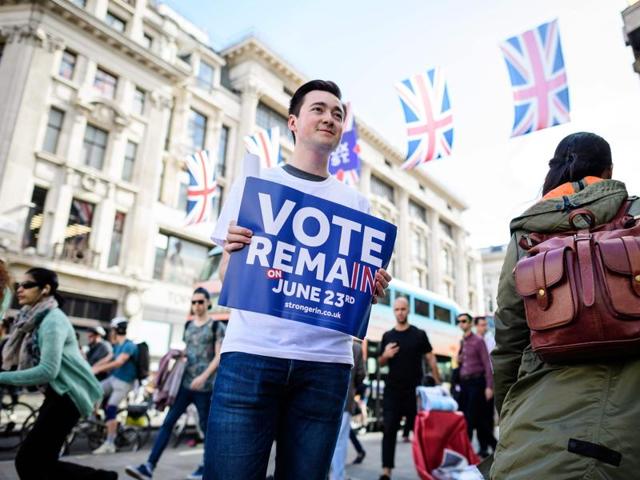 Hindustan Times |
, New Delhi
Gaurav Choudhury
Indian businesses and policymakers are worried over UK's vote on whether to quit the European Union (EU), as a decision to pull out may mean a realigning of many companies' operations, although the exact impact on India's real economy is anybody's guess.
Britain was taking a call -- with the 'Leave' camp leading --- on whether it should share common economic objectives as the rest of the 27-member nations of the monetary union and this may force 800-odd Indian companies operating in Britain and employing more than 100,000 people to revamp their investment plans, and export and foreign-exchange strategies.
"Several companies have set up shop in Britain for leveraging not just the local market but also the European markets for which Britain was a base camp. This will mean reworking business plans," said Madan Sabnavis, chief economist of Care Ratings, a credit rating and research firm.
Brexit: Why it's India's business to watch how Britain votes
Minister of state for finance Jayant Sinha said last week the government is keeping a close watch on the Brexit vote outcome.
India has been negotiating a free-trade agreement with the EU and a Brexit outcome will have direct bearing on this. If Britain stays put, then India needn't rework the current line of negotiations. If Britain quits, then this will create an additional need for India to set up a similar pact separately with the UK.
Watch | Why India doesn't want Brexit
"If the leave camp wins, it is likely that the UK will seek trade agreements with non-EU partners, including India," DBS Group, a bank, said in a research note.
At $8.83 billion in exports and $5.19 billion in imports, Britain ranks 12th in terms of bilateral trade and is one of seven countries with which India has a trade surplus.
Brexit vote: All you need to know about Britain's referendum
A major impact at the level of individual business may be visible on Tata Steel's plans to sell off its troubled UK assets. A lot of potential European buyers will in turn have to reassess their interests in buying Tata Steel UK depending on where Britain ends up.
According to Carwyn Jones, first minister of Wales, who last month returned after meeting top officials of the company in Mumbai, if Britain votes to leave the EU, it could "scupper" the sale of Tata Steel's UK assets.
"All these buyers are holding off to see what the result is on June 23 and I've no doubt they'll run if they find the UK has left," he said last month.
India's IT sector is equally anxious. UK accounts for 17% or one-sixth of Indian IT firms' global exports that topped $100 billion (approximately Rs 6.70 lakh crore). For one, Britain's exit clearly will increase overhead costs, such as setting up new headquarters, one for EU and another for Britain.
"How, and to what extent it will impact Indian IT companies in the region will become fully clear only after the dust settles on the referendum," Nasscom, an IT industry body, said in a statement.
Experts also cautioned about impending volatility in currency and equity markets.
Brexit could negatively affect the British pound, which means the rupee could appreciate and this will hurt Indian exports by making them costlier for Britain.
Volatility in the currency markets will likely impact capital inflows to emerging markets including India.
"It will heighten global volatility impacting capital inflows," said Ritesh Jain, chief investment officer, Tata Asset Management. "Any substantial depreciation of the euro or the pound, could lead to increased headaches for India in a sluggish export environment."