Etihad Airways names Tony Douglas new CEO
Updated on Sep 28, 2017 05:26 PM IST
Douglas will take over the charge of the new position in January next year, Etihad Airways said in a statement.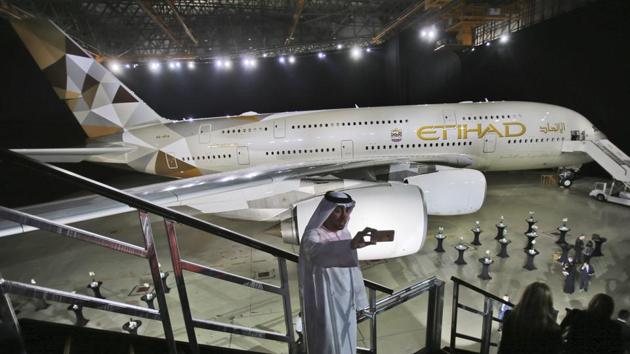 Gulf carrier Etihad Airways on Thursday said it had appointed former Abu Dhabi airport chief Tony Douglas as its group chief executive officer following the exit of James Hogan early this year.
Douglas will take over the charge of the new position in January next year, Etihad Airways said in a statement today.
As of now, Ray Gammell has been serving as Interim Group CEO since May.
Etihad, which is the national carrier of United Arab Emirates (UAE), is a strategic investment partner in domestic full service carrier Jet Airways, holding 24% stake in it.
At present, Etihad Group's chief of support services Harsh Mohan is its nominee to the Jet Airways board.
Etihad's earlier board members in Jet Airways--Hogan and CFO James Rigney--quit the airline earlier this year and thereby automatically resigned from it.
Douglas joins Etihad from the UK's Ministry of Defence, where he had served as CEO of the defence equipment and support department, responsible for procuring and supporting all the equipment and services for the British Armed Forces, the airline said.
He has also held, in the past, senior positions in the UAE, including as CEO of Abu Dhabi Airports Company and as CEO of Abu Dhabi Ports Company, it said.
"We are delighted to have Tony return to Abu Dhabi to lead Etihad. He has guided the transformation of large organisations in the UAE and the UK, and he understands the UAE and the region. He is also deeply knowledgeable about commercial aviation and keenly familiar with Etihad's challenges and opportunities in a rapidly changing industry," chairman of the Board of Etihad Aviation Group Al Mazrouei said in the release.
As group CEO, Douglas will work with the Board and leadership team to expand and implement a range of strategic initiatives to position Etihad for sustained success in an increasingly competitive regional and global aviation market, the airline said.
"Etihad and its talented workforce have helped to reshape global and regional aviation. With new challenges and new opportunities, Tony will guide the company into the next phase of its development," Gamell said.
Etihad also said that Douglas will be supported by an experienced group leadership team which includes Gammell, who will return to his position as Group chief people & performance officer, Ricky Thirion, interim Group CFO, Kevin Knight, Group chief strategy & planning officer, among others.