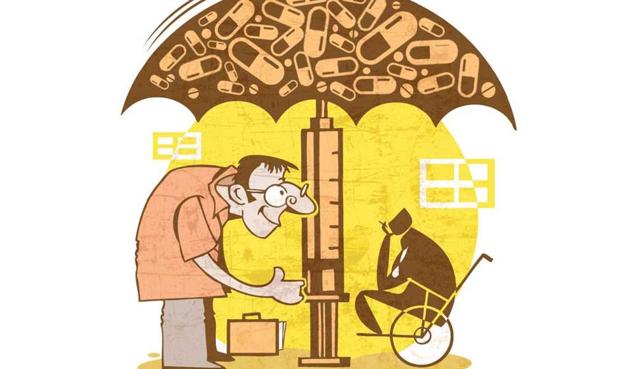 Know the health insurance policies you really need
Keep these factors in mind when picking the right insurance cover for you and your family.
Livemint | By Deepti Bhaskaran
UPDATED ON MAY 03, 2017 11:22 AM IST
Health insurance is important but does this mean you need several policies or you buy anything that passes off as health insurance? We spoke to experts for answers and this is what we got. For most people, the health insurance portfolio shouldn't have more than a basic health insurance policy that pays for hospitalization, a top-up policy to enhance this cover and a critical illness policy to supplement income in case a serious ailment leaves you without a job or there are additional expenses.
Start with basic cover
A basic health insurance policy is also called an indemnity policy. It pays for hospitalization expenses including pre- and post-hospitalization costs. "Make sure you buy a policy with fewer restrictions even if the sum insured is small," said Mayank Bathwal, chief executive officer, Aditya Birla Health Insurance Co. Ltd. "Restrictions in the form of sub-limits on room rents, on specified medical conditions, co-payments or waiting periods may mean that you get health insurance cheaper, but the impact of all these restrictions can be severe at the time of claim. As long as you can afford it, avoid these restrictions," he added.
You should also avoid unnecessary add-ons; it also helps reduce costs. "Some add-ons are consumer specific. So buy a policy where you can opt out of these if needed. For instance, OPD (out-patient department) benefits in India are still not efficient, as the premiums are close to the benefit paid. So, if you opt out of OPD, you can reduce your premium outgo," said Bathwal. Families should consider floater plans. These are cost-effective. Such policies consider the entire family as one unit; so whoever makes a claim, the sum insured reduces by that much for the entire family in the year. "Since most insurers now offer the restore feature—where the sum insured can be restored even after a claim is made, for the rest of the family members—floater policies have become meaningful. But if you have a very senior citizen or a person with a pre-existing ailment, it's better to get individual insurance for them," said Mahavir Chopra, director, health, life and strategic initiatives, Coverfox.com.
How much do you need?
You can use a top-up policy to be adequately insured. A top-up is a regular indemnity plan that covers hospitalization costs but only after a threshold limit, known as deductible, is crossed. So, use your base health insurance policy to make a claim up to the deductible amount, and a top-up plan for payments over that. The deductible feature of a top-up plan makes it cheaper because it reduces the liability of the insurer. Higher the deductible, cheaper is the top-up plan. "A person can consider a basic cover of Rs10 lakh and with that as the deductible, a top-up cover of about Rs20 lakh will come cheap," said Chopra. "A high sum insured is recommended, as then you don't have to keep reviewing your cover," he added.
Get a critical illness plan
What if a serious ailment leaves you high and dry? Defined benefit policies play an important role here. Consider a critical-illness plan that pays a lump sum upon diagnosis of critical ailments. "The big worries are cancer, heart conditions, diabetes and liver conditions. So a good critical illness plan should cover these and complications arising out of diabetes at the very least," said Antony Jacob, chief executive officer, Apollo Munich Health Insurance Co. Ltd.
Buying health insurance is important, but what is equally important is to ensure that there are no shocks at the time of claim. Remember that these policies come with a waiting period clause on pre-existing ailments. "When shopping for a health insurance policy, use the opportunity to get a full health check-up done, even if the insurer doesn't insist on one," said Jacob.
This way, there won't be any confrontation on pre-existing ailments at the time of making a claim.
(Story published in arrangement with Livemint)
Close