HP Smart Tank 580 is making fundamental changes to how we buy printer ink
Feb 03, 2023 02:48 PM IST
There is a definite saving with the tank-based system, with significantly more prints than traditional cartridges. But you must weigh that against the cost of buying the printer, which holds a premium for evolving technology
Among all possible irritants of printers, realising you're low on ink is right at the top. HP's attempts to solve that rely on something very basic – our ability to plan. The fundamental differences in ink tank implementation of the HP Smart Tank 580 solves that problem. Could this bring about a lasting change in how printers are made?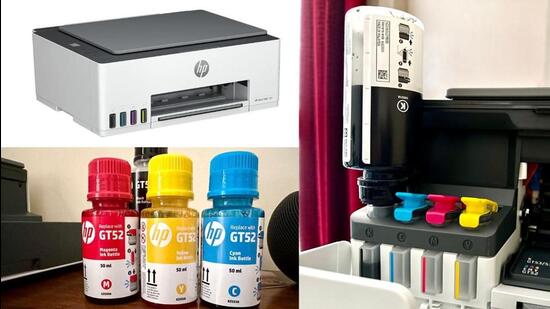 We must illustrate the different approach to how the HP Smart Tank 580 uses its ink, and how you refill it. Instead of standard colour and black cartridges you buy otherwise, here there will be four ink bottles (and corresponding, four ink tanks on the printer). That would be black (this is a 90 ml or 1,235 ml bottle, depending on what you pick) alongside yellow, cyan and magenta (each of these are 50 ml bottles).
HT did a quick analysis of the costs involved. The black ink refill, in 135 ml capacity, costs ₹723. Each of the colour ink bottles is priced at ₹657. The black ink bottle has a claimed capacity of around 6,000 pages at standard print setting (it'll increase slightly if you print documents in draft setting) while the colour inks can each handle up to 8,000 prints.
Now compare this with the HP 682 standard ink cartridge, which is used by many popular HP printers. Including one that we use. The black cartridge claims returns up to 480 pages (our experience in the real world, print returns are much lesser, irrespective of quality setting) – this costs ₹861. The tricolour cartridge's return on print numbers is even lesser, at around 150 pages. This is priced at ₹861 as well.
You not only spend less on the new ink products but the immediate increase in return (and the number of prints are significantly higher) on your ink refill spends, is very evident, with the new implementation used by the HP Smart Tank 580.
Now you have to factor in the cost of the printer. This particular model, complete with Wi-Fi printing and mobile app connectivity, is priced around ₹16,699. It will be difficult for us to give you an exact number in terms of how much you save in the long run – but compared to your existing printer and its specific cartridge costs, you'll need to do a swift calculation keeping the monthly average printout consumption in mind.
How much do you print, how many replacement ink cartridges you need to buy as a result and how often. That'll weigh against the HP Smart Tank 580's replacement ink costs and the massive number of prints each ink bottle can generate. To be fair, if your monthly print usage is not about 500 pages at least, it'll be a really long time before you'll be able to generate the returns from spending this much on a new printer.
It will be a bit like the debate most car buyers have with themselves before booking a new set of wheels – would a petrol fuel car make more sense, or will a diesel car help me save more money in the long term though the initial investment is more? The answer to that lies usually in how many kilometers you are likely to clock up, every month.
It is incredibly simple to set up the HP Smart Tank 580. The mechanism to fill the tanks (you must lock the ink bottle, upside down, on the lid of the tank to refill. Ink levels in each tank are visible from the outside itself. In my experience refilling these tanks, ink doesn't spill either from the bottles or around the lid.
Once this is done, the app on your phone (you'll need to download the HP Smart app; available for Android phones and the iPhone) will guide you through the setup for Wi-Fi as well sharing the wireless print access with other users. Wireless printing, particularly on the same Wi-Fi network, is error free from Mac computing devices, Windows 11 PCs, iPhones and Android phones.
You can also go the old school route with the USB cable.
Also Read:10 best laser printers in India: Buying guide
In our testing experience, alternating between normal and fast draft quality for documents, the HP Smart Tank 580 doesn't create any complications at all. It simply works, something that cannot often be said about printers which tend to falter and stumble. It is fast, and somewhat silent too.
It returns around 12 prints per minute on black and white and about 6 prints for colour in the normal setting. Expect more in fast draft, but it is unlikely you'll print colour pages in that setting. That said, some school assignment printouts, even fast draft setting for colour, came though rather well. Anyone who doesn't know the setting used, will look at those prints and believe it is the standard setting.
This is one way to get more prints per ink refill. It all adds up in the long run.
The HP Smart Tank 580 will only connect with 2.4GHz Wi-Fi networks. If your home Wi-Fi is set up for 5Ghz only, you'll need to update the settings in your router to enable the 2.4GHz band as well.
The printer peripheral ecosystem had been crying out for innovation. The last big one probably was the introduction of Wi-Fi, a few years ago. Now, with the different approach to how ink is refilled and consumed, HP may be on to something here. It'll certainly save money on the cost of maintaining a printer, for the years you are likely to keep using it.
Yet, for an innovation still in the early days, the initial outlay is significant. Most home users wouldn't consider spending so much on a printer, which somewhat restricts the typical demographic to home offices and small businesses. The initial cost should reduce with time, as more products get launched in due course. It also means for now, you'll need to calculate how much you'll save with print usage, to make up for the money you spend on the HP Smart Tank 580.