India has mastered art of leveraging technology, says Tata group's Chandrasekaran at Davos 2023
PTI | | Posted by Singh Rahul Sunilkumar
Jan 18, 2023 04:25 PM IST
Davos 2023: World needs resilience and India can take lead, Chandrasekaran said addressing a session on 'India's road to a USD 10 trillion economy' here at the World Economic Forum Annual Meeting 2023
Tata group chief N Chandrasekaran on Wednesday said India has gone through a major attitude transition in the recent years and is now in a position to take the lead in bringing resilience back to the global economy.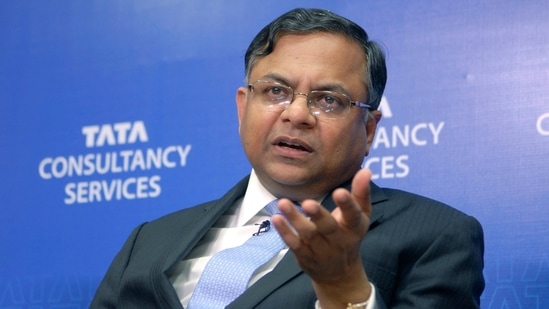 Speaking at a session on 'India's road to a USD 10 trillion economy' here at the World Economic Forum Annual Meeting 2023, he said the country has mastered the art of leveraging technology.
Tata Sons Chairman further said India produces the largest number of graduates, which is just one of the several factors putting the country in an advantageous position.
"The country has gone through an attitude transition and it was at its best show during the Covid pandemic, when we saw our own vaccines getting manufactured in India. The digital transition we saw has also been phenomenal," he added.
ALSO READ: Davos 2023: Impossible for China to return to planned economy, says vice-premier
"For me, the three most important things are growth, growth and growth. The world needs resilience and India is in a position to take the lead, including on supply chain frameworks," the Tata group chief said.
India has huge opportunity and potential to lead the world in areas like health, care economy and tourism, Chandrasekaran said.
He said India currently gets about 10 million tourists but it has potential to get 100 million. For that we need to build infrastructure and a lot of work is happening on airports, surface transportation and shipping areas, he said.
We are not yet there, but we can definitely get there and all we need is "execute, execute and execute" for that, the Tata group chairman said while asserting that all these goals are very much achievable during this 25-year Amrit Kaal period.
Speaking in the same session, Union minister Smriti Irani said it is very much possible to reach these goals and India has shown its capabilities on several fronts during the pandemic period, whether it was about testing capacity, production of PPE kits, manufacturing of vaccines and so many other areas.