Petroleum minister: Passed benefits as much as possible to consumers
Petroleum minister Dharmendra Pradhan spoke to HT on a range of issues from excise duty hikes to a new exploration policy.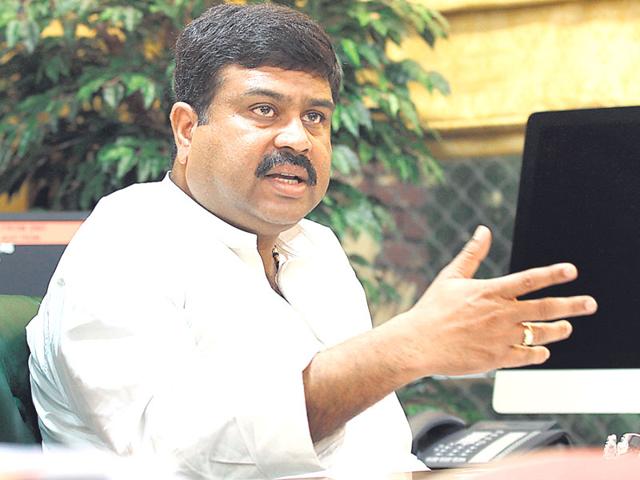 Updated on May 28, 2015 12:51 AM IST
Hindustan Times |
, New Delhi
Aman Malik and Gaurav Choudhury
Petroleum minister Dharmendra Pradhan spoke to HT on a range of issues from excise duty hikes to a new exploration policy.
What would you say are your achievements in the last one year?
We inherited several legacy issues. The gas pricing formula, which was set by the UPA government, had raised a lot of debate. The matter was in courts, the CAG had some observations. The new government got some relief as the price of crude oil in the international market fell. We passed on the benefit as much as possible to the consumers. We brought in a new gas-pricing formula keeping in mind the interests of all the stakeholders. We deregulated diesel price, and made direct cash transfer of LPG subsidy possible by linking the Aadhaar number to the bank account. We saved Rs 10,000 crore this way.
When will excise duty on petrol and diesel, which were raised last year, be rolled back?
There is no plan to reduce excise duty for now. The crude prices had been coming down, but have begun going up again. There was a Platts report recently that said that crude would stabilise in the $50-80 per barrel range in 2015-16. We inherited empty coffers. The government has several social obligations like education, health, employment generation, electricity, roads and other social sectors, where it has to spend. The excise duty has been routed into these.
By when is India's proposed $6-billion investment in Mozambique likely to happen?
When I went to Mozambique, their Parliament was in the process of ratifying the new law. The joint venture that our companies have formed there will go into the second phase after the changes. We will likely begin investing in this financial year itself.
What changes will you bring in the new exploration policy?
We will try and bring the new policy within this financial year. Our ministry has agreed on three major contours and we have sent it for inter-ministerial discussion. It could have uniform acreage and unifying licence that will allow oil, gas, shale, coal-based methane from one oil field. We will soon take the draft to the Cabinet.
What could be the quantum of new gas available in the western offshore and Mumbai High?
In the recent past, due to exploration activities in that area, new resource has been discovered. Mumbai fields are advantageous and challenging at the same time. We think it is premature to speculate on the quantum of gas there. Now, ONGC is looking to produce on level two from Mumbai High.
Along with crude oil, natural gas prices also fell, but your government did not pass the benefit on to the consumer. Why?
I don't know how you are calculating. The government exchequer has to fund the transport system, the electricity infrastructure. Don't people expect this from the government? Or will the private sector invest in the social sector? For that the government needs money. Did we raise the market rates? We did not.
By when is the subsidy sharing formula for ONGC likely to be settled?
In a way it has already been settled. We did not burden ONGC in the last quarter. We have spoken to the finance ministry on this. We are freeing ONGC from subsidy burden at a time when crude prices are down. This will help it invest more in exploration and production.

The Prime Minister had called upon people to give up LPG subsidy, but so far just over 400,000 have done so. What are your views on this?
We have readied the mechanism to help people give up their subsidy and we are publicising it. At the ground level, we are seeing a good response. We are confident people will come forward. We will have to inspire people to give up their subsidies. This is not a government policy, without targets. That would defeat the purpose of voluntarism.
Close Story
Personalise your news feed. Follow trending topics