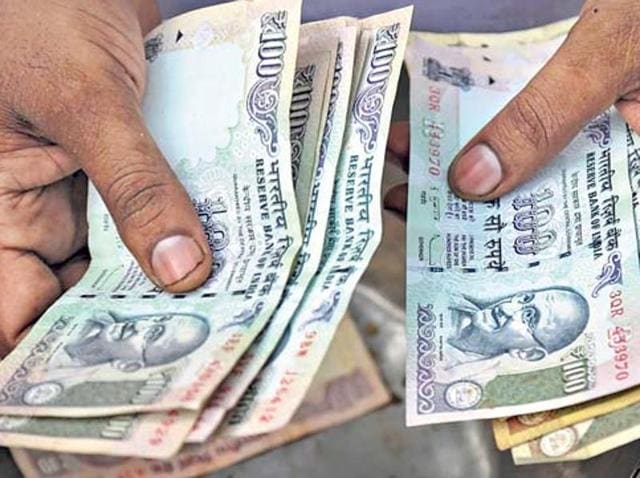 Firm for 6th day, rupee up by 2 paise at 66.33 against dollar
The rupee moved in a range of 66.35 and 66.27 per dollar during the day before closing at 66.33, showing a marginal gain of two paise or 0.03%.
UPDATED ON DEC 22, 2015 07:52 PM IST
Extending its rising trend for the sixth straight session, the rupee moved up by 2 paise to 66.33 on persistent selling of dollars by banks and exporters on hopes of resumption of foreign capital inflows.
Weakness of dollar in the overseas market also boosted the rupee value against the dollar.
The Indian rupee resumed higher at 66.30 per dollar as against Monday's closing level of 66.35 at the Interbank Foreign Exchange (Forex) market.
It moved in a range of 66.35 and 66.27 per dollar during the day before closing at 66.33, showing a marginal gain of two paise or 0.03%.
The rupee has gained by 76 paise or 1.13% in six trading days.
The dollar index was down by 0.12% against a basket of six currencies in the late afternoon trade.
In New York, the euro strengthened against the dollar on Monday as a rout in crude-oil prices resumed, helping support the shared currency at the expense of its emerging-market rivals.
The dollar was largely unchanged against the yen and the euro in thin Asian trade in the afternoon trade on Tuesday, with fewer participants in the market ahead of the year-end holiday season.
While oil prices enjoyed rare gains in Asian early trade, with Brent crude bouncing from an 11-year low as investors await a closely watched US crude inventory report.
Pramit Brahmbhatt, Veracity Group CEO, said, "The rupee closed on a positive note at 66.33 levels gaining 2 paise. Today, Nifty lost 48 points on back of selling pressure at higher levels. Trading range for the spot USD/INR pair is expected to be within 66 to 66.75 range."
Meanwhile, the benchmark Sensex ended lower by 145.25 points of 0.56% on Tuesday.
In Tuesday's forward market, premium for dollar declined on fresh receivings from exporters.
The benchmark six-month premium payable in May ended lower at 181-183 paise from 187-189 paise on Monday and far forward November 2016 contract also fell to 391-393 paise from 398.5-400.5 paise.
The RBI fixed the reference rate for the dollar at 66.29 and for the euro at 72.33.
In cross-currency trades, the rupee firmed up further against the pound sterling to end at 98.77 from the previous closing level of 98.82 while fell against the Japanese currency to settle at 54.82 from previous close of 54.65 per 100 yen.
It also fell against the euro to 72.55 per euro from 72.12 previously.
Close