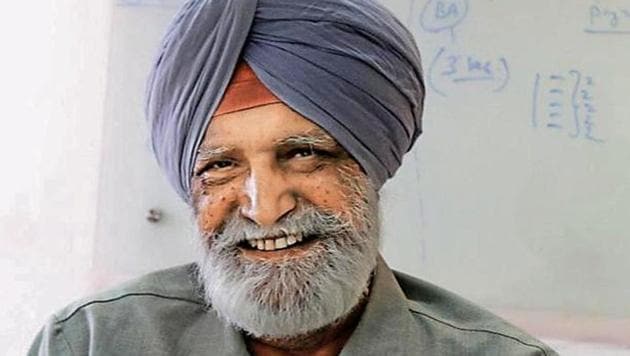 Words of wisdom: Put in your best, enjoy what you do, results will follow, says war veteran
Lt Gen JS Dhillon (retd) says his strength has been good soldiering which means being clear in the mind, working hard to know the profession well and striding ahead confidently
UPDATED ON MAY 02, 2019 09:06 PM IST
"My wife says I don't smile much," says Lt Gen JS Dhillon (retd), 79, settling down for a photo. But his face lights up the moment you ask him to list the highlights of his four decades in the Indian Army.
"I was at Hussainiwala in 1965 and East Bengal in 1971 and at Amritsar during Operation Bluestar in 1984. It was unfortunate but the army had to do its job. I was brigade commander at Jaffna as part of the Indian Peace Keeping Force (IPKF) in 1987-88, commanded a division at Mammun cantt during the Sikh insurgency and was the 15 Corps commander during the Kargil war. I had moved from Kargil a few months before the conflict," he says.
He hung up his boots in 2001 to settle down in Chandigarh and was adviser to industrialist Ratan Tata for 15 years before calling it quits.
Commissioned in 2 Maratha Light Infantry on June 11, 1961, he says, "The Indian Army is one of the finest organisations to serve. Society has evolved but the professionalism in the army is intact. Sacrifice and discipline make one humane. The fair assessment in the forces ensures there is no mai-baap culture."
Hailing from Shahkot town in Jalandhar district, he says, "I studied in a government school and enjoyed running, playing hockey, football and basketball. My father guided me to join the National Defence Academy (NDA). I played squash and table tennis for the first time there. The uniform transformed my life."
Enjoy every phase
"I've been transferred 22 times in 40 years and have enjoyed every stint and assignment. My strength has been good soldiering. It means preparing well and doing your best. Take pride in your work. So whether it was being a trainee or an instructor or a commanding officer, I gave it my best shot," Lt Gen Dhillon says.
He finds retirement equally enjoyable. "It is wonderful to retire. The phone doesn't ring as much and everyone is respectful to senior citizens," he says.
His son and daughter are based in the US but the general has no plans of shifting base. "I'm proud of their achievements and visit them once in a year but I will not settle down there because I want them to be independent," he says, urging Indian parents to encourage children to grow under their own strength.
"Migration using parents' money is an easy but a bad option. I feel sorry for such parents. Their children have no qualms doing there what they refuse to do here," he says.
He believes children work hard if they are motivated and wants them to focus on physical activities than become captive to social media.
System is supreme
Having seen corporate life closely, he says, "The biggest learning is to listen attentively and be forthright. You have the right to dissent but do it with grace, without disrupting the system. The system, whether it is the government or a company, is supreme and deserves respect. It is sad to see our politicians deviating from dignified discussion these days."
City connect
He says Chandigarh's biggest problem is its traffic congestion. "Half the problem will be solved if youngsters are asked to ride cycles instead of driving cars. Elders should also prefer to car pool or take public transport," he says.
There should be dedicated bus services to hospitals and educational institutions with the frequency being determined by the requirement, the general adds, underlining better management.
Close