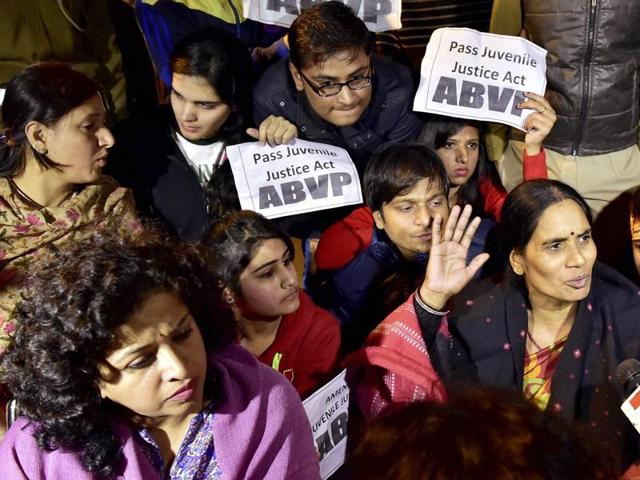 At Jantar Mantar, protesters of all hues join hands, demand justice for braveheart
The parents of the victim joined the protest and sat along with the members of Nirbhaya Jyothi Trust who said that the silent protest will continue through the coming week till a stringent law against booking underage convicts for heinous crimes is enacted
UPDATED ON DEC 22, 2015 09:32 AM IST
A day after a convict of the December 16 gang rape was released, people from all walks of life gathered at the Capital's protest hub -- Jantar Mantar -- to express their outrage and support the family of the gang rape victim.
"The entire nation has been let down today. It is a dark day in the history of India. This has proved that any person below the age of 18 can get away with any brutality and we will do nothing," said Rajbeer Mehra, a student who had participated in the protest.
The gang rape also brought together those who had been protesting over other issues. They too joined the victim's family and others and raised slogans. Members from the crowd donned black bands to mark their protest against the Supreme Court's rejection of the plea filed by the Delhi Commission of Women (DCW) to put a stay on the convict's release. Placards were put up with lines like, 'Today India's head hangs in shame', 'Save our daughters' and 'Hang the juvenile'.
The parents of the victim joined the protest and sat along with the members of Nirbhaya Jyothi Trust who said that the silent protest will continue through the coming week till a stringent law against booking underage convicts for heinous crimes is enacted.
"If a person can rape a woman so brutally why should he be considered a child? If the government does not have any provision to punish such criminals then hand them over to the public, we will take care of such anti-social elements who do not allow our women to walk safely on the roads," said Rakesh Shrivastava, a resident of Trilokpuri, who has been participating in the protests since 2012.
Students from Delhi University and members of Akhil Bhartiya Vidyarthi Parishad (ABVP) also organised a protest which later joined with the others, demanded immediate passage of the amendments to the Juvenile Justice Act in Parliament and setting up more fast-track courts for rape cases.
Close