Bengaluru's lakes hit with continued encroachments and contamination
Published on Mar 15, 2022 07:33 PM IST
Lakes in Bengaluru face extinction as encroachments and contamination remain rampant.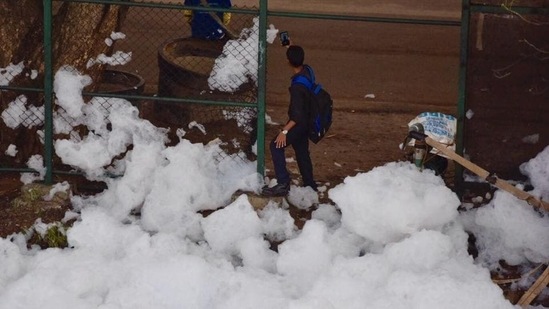 The lakes in Karnataka state capital face neglect as authorities fail to protect them from encroachments and contamination. One of the few remaining water bodies in the city, the Thalaghattapura lake, remains partially occupied by a private school, and is contaminated by hazardous waste. Despite cleanliness drives by non-profit organisations, the lake has not yet been revived.
Lakes are not only contaminated from sewage water disposal, but car washes and liquid runoffs. The Kengeri lake is one such lake, which has all but died due to the mixture of oil and detergents forming a thick sludge over its surface. Despite clear guidelines from the Karnataka State Pollution Control Board (KSPCB), washing centres have failed to relocate outside the vicinity of naturally occurring water bodies.
In a news article published on Tuesday, it was reported that the Chikka Kallasandra lake has been completely encroached by land sharks, despite orders passed by the highest court of the state.
The Bruhat Bengaluru Mahanagara Palike (BBMP) started the lake rejuvenation project in 2017 in Bengaluru, but only a handful lakes have been revived so far, including the Sarakki lake and the Avalahalli lake. These lakes have followed the model of Ulsoor lake, one of the biggest in the city, where a walking track, a bird island and boating rides are made possible.
However, the Bellandur lake, one of the most toxic in Bengaluru and the Varthur lake remain frothy and foamy, untreated with sewage. Some lakes need to be rejuvenated repeatedly as short-term neglect causes algae and marshy aquatic plants to grow uncontrollably without regular maintenance, taking up all the water.
In one instance, residents near the Avalahalli lake took up charge of cleaning the lake beside their homes as independent bodies and committees formed for the maintenance of lakes don't get enough funds.
Personalise your news feed. Follow trending topics