NSUI, BJP members clash at education minister's home in Tumkur over textbook revision
Updated on Jun 02, 2022 02:37 PM IST
Amid textbook revision controversy, several members of the Congress's student wing, NSUI (National Students' Union of India), were held after clashes were reported at state education minister B C Nagesh's residence in Tumkur on Wednesday.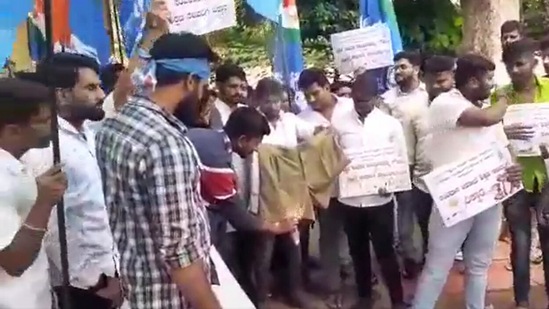 Yamini C S | Edited by Swati Bhasin
According to a report published on The New Indian Express, some NSUI members assembled at the minister's home to protest the revisions in school textbooks of Karnataka, which has stirred much controversy lately. The education minister was reportedly in Ahmedabad at the time of the incident, where he was attending a national conference on school education. He is expected to return to Karnataka on Thursday evening.
NSUI members came to Tiptur, Nagesh's hometown, at around 3.30 p.m. on Wednesday and staged a demonstration, protested the textbook revision and reportedly burnt a pair of khaki shorts, in protest against the "saffronisation" of school textbooks by the ruling BJP state government. Some BJP workers were present at the site and reportedly clashed with the protesting NSUI members, after which police arrived to break up the mob. Police have held around 15 NSUI members after the incident, including NSUI state chief Keerthi Ganesh.
The NSUI took to Twitter about the incident and said, "NSUI State President Keerthi Ganesh has been arrested by police while protesting in front of Education Minister @BCNagesh_bjp house. If he is not released immediately, the NSUI will conduct a state-wide protest."
BJP politicians meanwhile, condemned the NSUI protest, with Chief Minister Basavaraj Bommai saying, "NSUI activists protesting at the home of Minister of Education BC Nagesh in Tiptur is condemnable. Such a move will bring disgrace to students and educators. The perpetrators of this atrocity will be prosecuted."
In a video shared on Twitter, BJP leaders from Tumkur can be seen gathered in front of the DC office condemning yesterday's protest by NSUI members at the Education Minister's house.
The textbook controversy was fuelled in Karnataka after a speech by RSS founder Keshav Baliram Hedgewar was included in textbooks, while a lesson on Bhagat Singh was allegedly omitted. Several groups have alleged that works by renaissance literary figures like A N Murthi Rao's 'Vyaghrageethe,' P Lankesh's 'Mruga Mattu Sundari,' and Sara Aboobacker's 'Yuddha' were also omitted from textbooks.
Several writers have since then withdrawn their consent to use portions of their writing in school textbooks in protest of the alleged "saffronisation". It is also being alleged that the works on eminent historical personalities like Narayana Guru are being excluded and replaced with right-wing thinkers like Hedgewar instead.
Personalise your news feed. Follow trending topics