#ServeInKannada trends on World Consumer Rights Day
Mar 15, 2022 07:03 PM IST
Language activism overtook Twitter on World Consumer Rights day as many in Karnataka asked shouldn't services be delivered in their regional language Kannada.
The Kannada cyberspace has been buzzing as language activists asked for service in their regional language on Twitter on World Consumer Rights day. The theme of World Consumer Rights day 2022 is 'Fair Digital Finance'.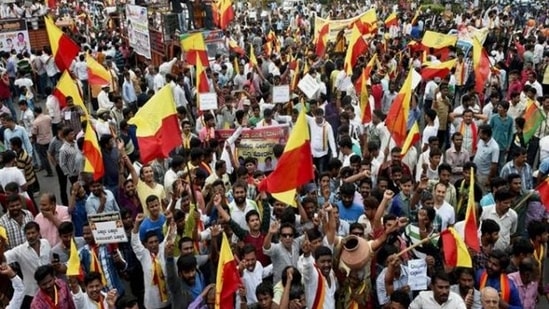 Many netizens posted photos of portals, service platforms and apps where service was available in Hindi and English, but not in Kannada.
Karnataka has seen a number of anti-Hindi agitations, especially after the mass migration of people from the northern states in search of employment to capital city Bengaluru.
The Karnataka government's proposal to introduce English as the primary medium of instruction in 1,000 government schools every year has been stalled for the second consecutive year. Kannada remains the most preferred second language in educational institutes after the National Education Policy (NEP) was introduced.
#ಗ್ರಾಹಕಸೇವೆಯಲ್ಲಿ_ಕನ್ನಡ (Customer service in Kannada) was trending at #1 on Bengaluru Twitter.
One user tweeted: "Every service to consumers in Karnataka should be provided in Kannada."
Another user wrote: "A central govt official refuses to speak in Kannada. Kannadigas were colonized by Gutkha land people after 1947. Hindi imposition and denial of services in Kannada is the barbarism you can see in the so-called largest democracy.
#ServeInMyLanguage"
Kannada activists and groups are often known to work for getting Kannada boards in front of shops and public spaces where the names and directions are in other languages. They have previously spoken against long-term issues localities have been facing issues like, centralized entrance exams and Hindi imposition.
Pro-Kannada activists have also defaced nameboards with Hindi content. This language war is not only against Hindi, but also against Sanskrit, after Kannada fanatics held multiple campaigns to reject Sanskrit and a Sanskrit University in a movement to de-Sanskritise Kannada vocabulary.
One user quoted a tweet that showed an advisory issued by the Directorate General of Civil Aviation asking all the airlines to consider using local languages other than English & Hindi while making in-flight announcements.