Adulterated milk products seized by food safety team
Jan 11, 2023 11:40 PM IST
During the inspection at the Baba Meera Ji Enterprises, the team discovered a large number of adulterated food products, including approximately 8 quintals of adulterated cheese and 40 quintals of fake milk
: A team of food safety officials on Wednesday seized a large number of adulterated milk products, including 40 quintals of fake milk, during an inspection of a private facility located at the Phullanwal area here.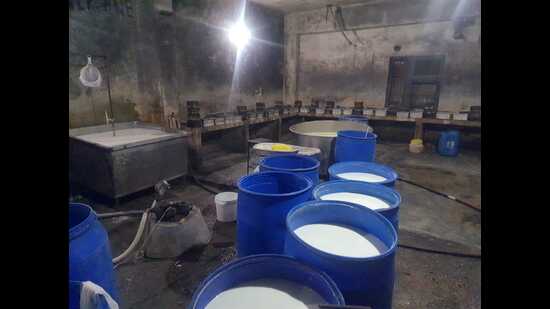 During the inspection at the Baba Meera Ji Enterprises, the team discovered a large number of adulterated food products, including approximately 8 quintals of adulterated cheese, 40 quintals of fake milk, one quintal of adulterated desi ghee, around 35 quintals of skimmed milk powder, three quintals of packaged and 50 kg of loose palm oil, as well as various other adulterants.
The team, led by Dr. Gurpreet Singh, also found various empty packets of refined oil. A furnace and motor used for mixing on the premises was also recovered. Samples of cheese, milk, refined oil and skimmed milk powder were taken and the entire stock was seized by food safety officers Tarun Bansal and Divyajot Kaur.