Punjab: Farmers manhandle BJP leaders, hold them 'hostage'
Jul 12, 2021 01:24 AM IST
Situation remained tense as protesters laid siege to a house where a dozen BJP leaders were holed up in Rajpura town
Situation in Rajpura town remained tense since Sunday morning as Bharatiya Janata Party (BJP) leaders faced the protesting farmers' wrath.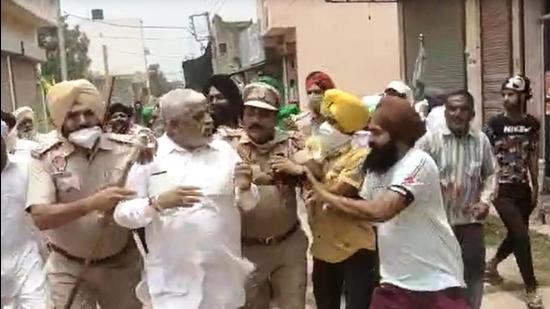 What started with the disruption of a district-level meeting in the morning culminated in a dozen BJP leaders being holed up in a house as farmers laid siege to it, not ready to relent.
Deputy inspector general of police Vikramjit Duggal and Patiala deputy commissioner Kumar Amit rushed to the spot to start a dialogue and defuse the situation, but stalemate continued till the filing of this report around midnight.
In the morning, farmers protesting against the contentious agricultural laws disrupted the BJP meeting that was being chaired by state general secretary Bhupesh Aggarwal at the Bharat Vikas Parishad building near the new grain market. As the number of protesters kept increasing, more police force was rushed to the venue to rescue the BJP leaders.
Aggarwal, district rural unit head Vikas Sharma and some other leaders were taken to an adjoining house, from where a panicked Aggarwal released a video claiming danger to his and party workers' lives.
Police managed to take him and others to further safety, but local councillor Shanti Swarup was not as lucky. In another video of the incident shared on social media, protesters could be seen chasing and manhandling him and even tearing his clothes, while he was being taken away by cops.
The party leadership rushed state general secretary Subhash Sharma to Rajpura, who later addressed a press conference. Laying the blame on chief minister Captain Amarinder Singh, he alleged that "Congress goons are trying to intimidate the minority Hindus in Punjab".
As farmers came to know about the press conference being held at the Lions Club, they reached the venue and began another demonstration. Police again managed to take Subhash Kumar to safety.
However, later, Aggarwal made a statement that the BJP will hold a meeting in the area as planned. Following this, Aggarwal along with Subhash Sharma, Vikas Sharma, district president Harinder Kohli and half a dozen other local leaders gathered at a house in Arjun Colony for a meeting.
Farmers reached there in large numbers and laid siege to it. Police was rushed to the spot and managed to surround the house to ensure security.
In a video released from the house, Subhash Sharma alleged that the Congress had sent its workers to gherao the place. "It's like terrorism days in Punjab. Police are not acting against goons," he said.
Farmer leader Prem Singh Bhangu said that Aggarwal had provoked farmers by using threatening language. He said that the morning incident started as Aggarwal's bodyguard pointed a pistol at the peacefully protesting farmers. He demanded an apology from the BJP leadership.
Meanwhile, the DC was holding parleys with both parties to defuse the situation. It is learnt the state BJP leadership has made frantic calls to the home department and senior police officials. Earlier in the day, Punjab BJP president Ashwani Sharma said: "This is an attack on democracy, and not BJP. There is complete lawlessness in Punjab, as police have become mute spectators."
Farmers have been targeting BJP leaders and events in the past few months. On June 30, Rajya Sabha member Shwait Malik, who had arrived at the All India Institute of Medical Sciences in Bathinda, had to face the farmers' wrath. Earlier, in Fazilka, clothes of a BJP legislator were removed, while the convoy of Ashwani Sharma was attacked in Ferozepur.