Guest Column: Imagination Adds Zest to Life
Feb 05, 2023 02:54 AM IST
Our imagination often leads us to action; sometimes it gets entangled in our fears but we need to confront it
"If you fall in love with the imagination, you understand it is a free spirit.It will go anywhere and it can do anything"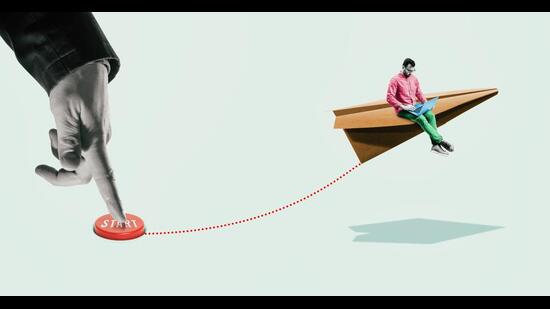 - Alice Walker
Success is a sought-after state. Many film celebrities, famous statesmen, sports persons and others ranking highly on annual listicles the most influential and famous are emblems of success.
These icons who inspire many have often confessed how their imagination has been a powerful tool.
Imagination, if properly channelled, can assure success in all undertakings. It can produce little results if left to itself. However, when properly directed, it is capable of paving the path to success transforming an ordinary person into someone extraordinary — someone who becomes a role model for many. Abraham Lincoln faced defeat repeatedly, but he imagined big and despite facing poor odds, achieved big.
Delighted, we tend to create, in misery, we destroy. Thus, exploited creatively, imagination can release our unfathomed depth of talent, dexterity and ingenuity.
Creativity, as opposed to popular opinion, isn't the monopoly of writers, artistes, painters or people from realms of art and literature.
When we begin to form in our minds a picture of a new situation, a new achievement, we desire to bring about,may be a toy for a child, a dish for a family, a poem , a painting, a garden with blooming flowers, the delight in perceiving makes us spontaneously work towards it.
Our imagination often leads us to action. Sometimes our imagination gets entangled in our fears but we need to confront it.
Lorraine Toussaint, the Trinidadian-American actress, says, "We all have a dark side. Most of us go through life avoiding direct confrontation with that aspect of ourselves,which I call the shadow self.There is a reason why.It carries a great deal of energy."
Yes, confrontation is therapeutic, confronting our shadowy self leads to freedom. Make your imagination wear a gown of gaiety, holding a flag of fortitude. Root the same in the present facts, ensure your imagination concerns itself with reality, not with fantasy. A picture of what is feasible is formed in mind. Then one must try to bring together the known facts and visualise transformation and move towards reaching them, bringing one joy.
From the pages of antiquity
Establishing control over energy and imagination, we can channel true creativity.
If we let our imagination fall prey to easy ways, however, we may commit blunders. Shakespeare's Othello had no doubt that he was right when he strangled his wife Deshdemona to death. Macbeth thought there was no other way of becoming a king that by killing Duncan.Likewise we are all caught in our own make- believe imagination,ignorant of other alternatives.
The saying goes — "You become what you think or imagine, your imagination is what pans out your persona. It tells you all the reasons why you can't or shouldn't do certain things. You don't have guts to do it, you lack resources, your health isn't good, nobody has ever managed it; you don't have much time. The catalogue of perfectly good excuses can be long and lengthy."
Once we master the control of our imagination, we automatically begin to use it creatively — to speak of the reason as to why and how we can comprehend the circumstances in the white light of reason, rather than with a preconceived notions that made Macbeth and Othello take the lives of Duncan and Desdemona.
Traditional thinking tries to prevent imagination, working in tandem with lame excuses, making it drift away. To cultivate an enriching life, one needs to upgrade imagination and sculpt a different future. That done, and one may never feel life either dreary or desolate.
This is also a path to satisfaction, for both mental and emotional needs. One must remember the words of the English poet, William Blake, "What is now proved was once only imagined?"