In record high, 40 heritage items from Chandigarh go under hammer in Paris
Jan 28, 2023 01:59 AM IST
A teak bookcase, designed by Swiss architect Pierre Jeanneret, had the highest reserve price of ₹40 lakh to ₹53.34 lakh
In yet another auction of Chandigarh's heritage furniture, as many as 40 articles, the highest so far, went under the hammer in Paris, France, on Friday.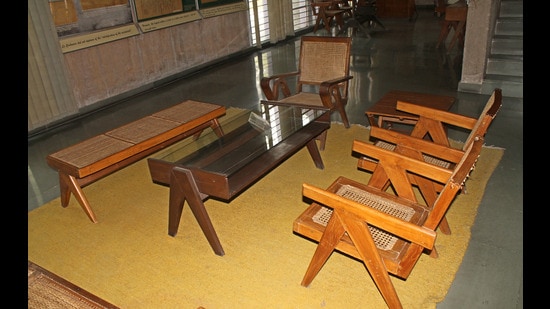 While the results were not immediately available at the time of going to press, the heritage items were offered for a total reserve price of ₹4.02 crore to ₹5.74 crore.
Of the 40 furniture pieces, a teak bookcase, designed by Swiss architect Pierre Jeanneret, had the highest reserve price of ₹40 lakh to ₹53.34 lakh.
The bookcase, namely "Display and Blue Metal", features front sliding doors, and glass sides and top, with two blue-lacquered, metal crenellated interior shelves. It was created in 1961 for the Central State Library in Chandigarh.
Among other items that were auctioned were a low chair with transversal back (€15,000 to €20,000), designed by Jeanneret in 1960 for private homes as well as for then upcoming PGIMER.
Then a teak bench with transverse slat seat on asymmetrical compass base with two struts, a model realised for the MLA Hostel and the residences of the civil servants of Chandigarh, was offered for a reserve price of €8,000 to €12000.
A bamboo-iron chair with cushion, created in 1954, was listed for a reserve price of €30,000 to €40,000. The listing mentioned that a copy of this model was in Jeanneret's house in Chandigarh and another copy is kept in the collections of the Chandigarh museum.
Also to go under the hammer, with a reserve price of €25,000 to €35,000, was an armchair, with bamboo arms and seat frame, upholstered with cotton canvas strips. Made in 1953, it was used in Jeanneret's house.
Then a coffee table, with a teak trunk section on a tripod iron base, designed by French architect Le Corbusier and Jeanneret for private residences, was listed with a reserve price of €30,000 and €40,000.
Speaking on this, Rajneesh Watts, member of the Chandigarh Heritage Conservation Committee, said, "The heritage articles being auctioned abroad were stolen and smuggled decades ago and continue to be circulated in the market."
A French delegation during their visit to Chandigarh in November last year had also said that the heritage furniture periodically showing up in auction houses across the globe was stolen long ago. The team had visited Chandigarh on the administration's request to guide it on conservation and restoration of city's heritage items.
As per a list compiled by the Chandigarh Heritage Inventory Committee in 2012, Chandigarh has 12,793 heritage items, made and used by Corbusier, his cousin Jeanneret and others associated with the founding and planning of Chandigarh in the 1950s and 60s.
Of these, a large number are in the possession of the Government Museum and Art Gallery, Sector 10, besides a huge stock of chairs and tables are at the Punjab and Haryana Secretariat and Vidhan Sabha, and the Punjab and Haryana high court.
But since the 1990s, the heritage furniture, made primarily from locally available materials like teak, sheesham and cane, and cushioned with sturdy cotton fabrics, has been finding its way to auction houses of various countries and being auctioned for crores of rupees, despite a 2011 order by the Union ministry of home affairs, banning sale and export of Chandigarh's heritage furniture.
Ten years later, in 2021, the central government, through the Archaeological Survey of India, had also issued orders to all ports (sea or air) to prevent the export of such articles. But the heritage articles continue to crop up in international auctions.
Nine items sold at US auction last week
At another auction of Chandigarh's heritage items in US on January 20, nine of the 10 articles on auction were sold for ₹1.14 crore
The total reserve price of these items was $1,27,000-1,76,000, which is around ₹1.03 crore to ₹1.43 crore. Of the 10 items, an armchair with reserve price of ₹36.64 lakh was not sold.
The auctioned items included a pair of lounge chairs designed by Pierre Jeanneret that went for $11,340 against the reserve price of $8,000-$10,000.
File racks from administrative buildings of Chandigarh, offered for $20,000-$30,000, were sold for $20,160. A set of six dining chairs from Panjab University, with reserve price of $20,000-$30,000, was auctioned for $22,680. Another set of four tools from the university were picked for $20,160 against the reserve price of $7,000-$9,000.
A set of a desk and chair, priced at $8000 -$10,000, got the highest bid of $13,860, while a bench, with reserve price of $7,000-$9,000, went for $10,180.