Pollution in Ludhiana's Sidhwan canal: NGT forms joint committee, seeks report in two months
Published on Nov 28, 2022 11:07 PM IST
Acting on the petition filed by members of different non-governmental organisations (NGO) over pollution in Sidhwan canal and encroachments on its banks, the National Green Tribunal (NGT) has ordered formation of a joint committee to look into the ground situation and submit a factual report regarding the same in the next two months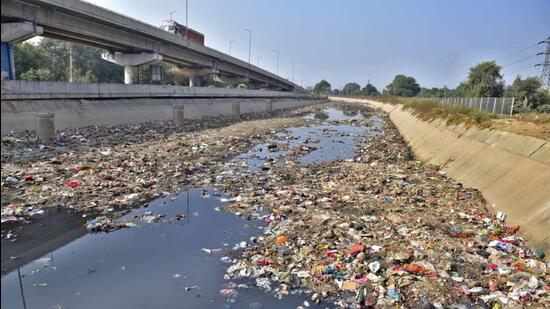 Acting on the petition filed by members of different non-governmental organisations (NGO) over pollution in Sidhwan canal and encroachments on its banks, the National Green Tribunal (NGT) has ordered formation of a joint committee to look into the ground situation and submit a factual report regarding the same in the next two months.
Earlier, four social activists had moved the tribunal — alleging that the authorities have failed to curb pollution in and around the water body. The petitioners slammed the irrigation department and municipal corporation (MC) for failing to remove encroachments on the banks of the canal.
The petitioners, including members of Kuldeep Khaira, Kapil Arora, Amandeep Singh Bains and Vikas Arora, also criticised the civic body for failing to remove its secondary garbage dumping site situated near Gill road canal bridge, from where garbage gets into the canal.
The deputy commissioner, representatives of the irrigation department, Punjab Pollution Control Board (PPCB) and executive engineer of the Sidhwan Canal Wing comprise the joint committee, which has been directed to submit a factual report with the tribunal within two months.
The PPCB, meanwhile, has been made the nodal agency for coordination and compliance of the tribunal's orders.
The report, as per available information, has been ordered in a bid to arrive at concrete facts on the waste being dumped in the canal, encroachments on the banks of the water body as well as on the area demarcated as a "No Activity Zone" along the canal.
Speaking of the latest developments, petitioners Khaira and Arora said they were forced to approach the tribunal as the authorities failed to act despite repeated complaints being submitted in the recent past.
Members of the NGOs had also staged a protest in an attempt to highlight the dumping of plastic waste dumped in the canal, with many warning against the canal slowly turning into a "buddha nullah" given the apparent pollution.
The protesters had at the time also highlighted the lack of proper arrangements to keep the residents from dumping waste in the canal. during festivals like dussehra or chhath pooja.
Shortly after the filing of the petition with the tribunal, deputy commissioner Surabhi Malik, municipal commissioner Shena Aggarwal and city legislator Gurpret Gogi visited the Sidhwan canal site near BRS Nagar canal bridge on November 18.
The authorities had announced that the process to clean the canal will be undertaken in the month of January. The civic body also announced plans to install chain-linked fencing around the canal and installation of CCTv cameras to stop residents from dumping waste into the water body.