Rahul dismisses Digvijaya's surgical strike remark as 'ridiculous'
Updated on Jan 25, 2023 02:00 AM IST
Addressing a press conference at Jhajjar Kotli on Jammu-Srinagar national highway, Rahul said we have full trust in our defence forces and the Indian Army does not need to give any proof of its actions.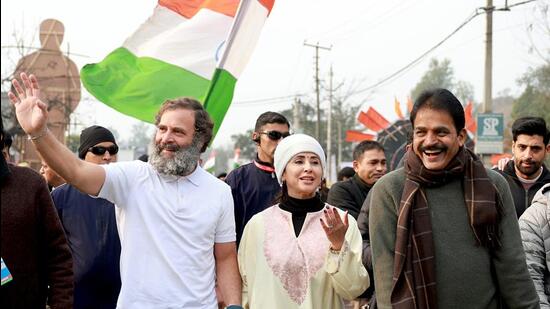 Congress leader Rahul Gandhi on Tuesday distanced himself and his party from former Madhya Pradesh chief minister Digvijaya Singh's controversial remarks over surgical strikes and called them "ridiculous".
Addressing a press conference at Jhajjar Kotli on Jammu-Srinagar national highway, Rahul said, "I totally disagree with his remarks. We have full trust in our defence forces and the Indian Army does not need to give any proof of its actions. I completely disagree with Digvijaya Singh's statement. That was his personal opinion and not ours." Digvijaya was conspicuous by his absence on Tuesday, a day after he questioned the veracity of the surgical strikes and accused the government of peddling lies.
When asked why the Congress dragged its feet on taking action against the party leader, Rahul said that theirs was a democratic party and not a dictatorship.
Also read: 'Truth has a nasty habit of coming out': Rahul Gandhi on BBC documentary on PM
"We don't run our party on principles of coercion. I would like to assure that Digvijaya Singh's opinion does not represent the party's views. We are absolutely crystal clear that the armed forces do their job exceptionally well," he added.
"It is the culture of our party to allow conversations and sometimes, people with extreme views tend to air them. So, we try to manage the conversation. In the Bharatiya Janata Party (BJP) and the Rashtriya Swayamsevak Sangh (RSS), there are no such conversations. Let's take goods and services tax (GST) implementation and demonetisation as examples. The prime minister got up one morning and decided to implement the GST or ban existing currency notes, which completely destroyed the backbone of the country," Rahul said, while denying any negative impact of Digvijaya's remarks on the Bharat Jodo Yatra.
"Our yatra has achieved something fundamental and very powerful. It has shown that there are two visions of India -- one which is full of hatred, arrogance, and cowardness and another that is filled with love and courage," he added.
"Bharat Jodo Yatra has changed the narrative and brought the country together," the Congress leader further said.
'Truth always comes out'
On government's ban on a BBC documentary based on Gujarat riots, the Wayanad MP said that truth can't be hidden.
"You can impose bans, suppress the press, control and use CBI or ED, but the truth shines bright and has a nasty habit of coming out," he said, while accusing the BJP of resorting to "arm-twisting tactics".
On Article 370, he said that the Congress stand was "very clear" on its stance and even had passed a working committee resolution.
The resolution had called out the "unilateral, brazen and totally undemocratic" manner in which provisions of Article 370 of the Constitution were abrogated and the state of Jammu and Kashmir was bifurcated into two union territories, Rahul added.
"The region is passing through a difficult time and we want to bridge the gap between Jammu and Kashmir, which has been created by the BJP," he further said.
Actor Urmila Matondkar joins yatra
Actor-turned-politician Urmila Matondkar said the world needed love and not fear and hatred as she joined Rahul's Bharat Jodo Yatra in garrison town of Nagrota here.
She had resigned from the Congress in September 2019 after a short association of six months and joined the Shiv Sena in 2020.
Before joining the foot march, she had in a brief video message showered accolades on Rahul for "uniting people".
"A man started off with a passion and took this yatra to great heights. We have come a long way. I feel this world needs more love and harmony and not fear and hatred."
For me, she said, the yatra has more social values than political ones. "I am going to join this caravan so that the lamp of Bharatiyata, which is in our hearts, remains lit all the time," she added.
Prominent author Perumal Murugan, J&K Pradesh Congress committee president Vikar Rasool Wani, his predecessor GA Mir and former minister Abdul Hamid Karra also walked alongside Rahul.
Also read: 'Armed forces need not show proof': Rahul Gandhi on surgical strikes comment row
A delegation from Ladakh met the Congress leader as well and discussed several issues with him, including its demand for statehood for the region. It also raised the issue of safeguards under the Sixth Schedule of the Constitution for Ladakh.
Rahul was also seen shaking hands with some army personnel watching his Bharat Jodo Yatra from behind the boundary wall of their camp.
Book Digvijaya, Rahul for treason: J&K BJP to LG
BJP's J&K unit chief Ravinder Raina on Tuesday urged lieutenant governor Manoj Sinha to register a case of treason against Rahul Gandhi and Digvijaya Singh.
"For how long will Rahul and his party distance themselves from anti-national remarks of Digvijaya? It is a deliberate attempt and a well-thought strategy of the Congress to spew venom against the nation, its forces and then dissociate from controversial remarks," Raina said.
"It was Digvijaya, who had called saints saffron wearing terrorists, addressed international terrorist Osama Bin Laden as Osama Sahib ji, termed Batla encounter fake and raised questions on armed forces," he added.
He alleged that the Congress was playing into the hands of "anti-India forces".
Topics