'Armed forces need not show proof': Rahul Gandhi on surgical strikes comment row
Updated on Jan 24, 2023 03:56 PM IST
Surgical strikes: We trust our armed forces and they do their work exceptionally well, Rahul Gandhi said on Tuesday after Digvijaya Singh said the Narendra Modi government was 'peddling lies'.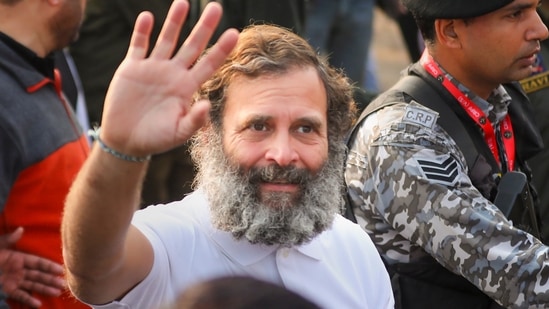 Congress MP Rahul Gandhi on Tuesday distanced the party from Digvijaya Singh's controversial statement on the Indian armed forces' 'surgical strike' against terrorists in 2016 and the 2019 Pulwama terror attack, calling them 'Digvijaya's personal views'. "… crystal clear that we disagree with it. They (the armed forces) need not provide any proof…" he was quoted by news agency PTI.
Gandhi's comments echoed those offered by Jairam Ramesh, who said the comment was 'his (Singh's) own' and did not reflect the Congress' position.
"We trust our armed forces and they do their work exceptionally well... our stand on surgical strikes is very clear and it was there in (the) Congress Working Committee..." Rahul Gandhi told reporters today.
The Lok Sabha MP - who is leading the Congress' 'Bharat Jodo Yatra', its attempt to reconnect with voters ahead of state polls this year and the 2024 national election - is presently on the march's final leg, in Jammu and Kashmir.
He was joined by new party chief Mallikarjun Kharge, who joined the Congress' fire-fighting efforts and said the party had 'clarified (it) stands with the Army'.
"We have always been working for the country and will keep doing the same. We have immense respect for our Army," Kharge, who replaced Sonia Gandhi, said.
ALSO READ | 'Truth has nasty habit of coming out': Rahul on BBC doc on PM
On Monday, Digvijaya Singh questioned the Narendra Modi government's 'surgical strikes' against terrorist groups across the Line of Control.
Speaking at a public meeting in Jammu and Kashmir, the former Madhya Pradesh chief minister accused the Modi government of peddling lies.
"They talk of surgical strikes. They claim to have killed so many people but no proof is given. They are ruling by peddling a bundle of lies," Singh declared.
READ | Digvijaya Singh sparks row with 'surgical strikes' remark
The comment triggered a furious reaction from the Bharatiya Janata Party, which said the Congress' 'hate' for prime minister Narendra Modi meant it had insulted the armed forces.
BJP spokesperson Shehzad Poonawalla tweeted, "Once again Congress questions 'surgical strike' and echoes Pak narrative on Pulwama. Digvijaya Singh had even blamed India for 26/11 ; Rahul G said 'sena ki pitai ho gayi'... shameful."
READ | 'No proof': Digvijaya Singh questions 2016 surgical strike; BJP hits back
Moving swiftly to counter criticism, the Congress moved away from Digvijaya Singh's comments, saying the remarks 'do not reflect the position' of the party.
"Surgical strikes were carried out before 2014 by (Congress-led) UPA government. Congress has supported and will continue to support all military actions in national interest."
READ | Congress reacts after Digvijaya Singh's 'surgical strikes' remark
Earlier today - and after the outpouring of anger and his own party's comments, Digvijaya Singh insisted he has the greatest regard for the country's soldiers.