Digvijaya's reply day after row over surgical strike remark sparked off. Video
Jan 24, 2023 09:32 AM IST
The former Madhya Pradesh chief minister said he has deepest regards for the armed forces.
A day after his remark on 2016 surgical strike, senior Congress leader Digvijay Singh said he has greatest regards for the defence forces. The former Madhya Pradesh chief minister was walking alongside party spokesperson Jairam Ramesh in the Bharat Jodo Yatra when reporters surrounded him and asked questions regarding his statement. "I have got the greatest regards for the defence forces," Singh said.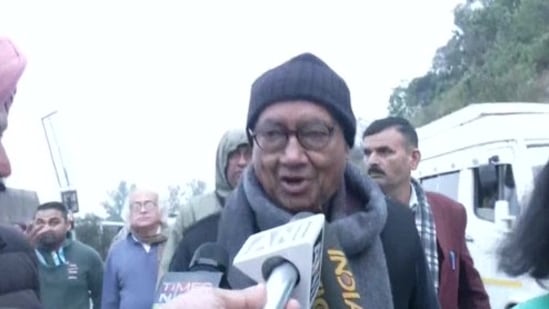 Barring reporters to ask more questions, Congress MP Ramesh said that the party has answered everything on the matter. Further, he suggested to ask questions to Prime Minister Narendra Modi. "We have answered all the questions. You go and ask questions to the Prime Minister," Ramesh said.
Read| Bharat Jodo Yatra: Digvijaya Singh fans row with surgical strikes remark
Singh stirred a controversy after he questioned the 2016 surgical strike that the central government carried out following the deadly terror attack at the Indian Army headquarters in Jammu and Kashmir's Uri, killing 19 soldiers. He also alleged that the Centre is spreading lies on the 2019 Pulwama attack the CRPF troops. "They (the government) claimed a surgical strike was carried out but didn't show proof. They only spread lies," he said at a public meeting in Jammu.
Later, the Congress stepped aside from Singh's remark and said the views shared by him "are his own". "The views expressed by senior leader Digvijaya Singh are his own and do not reflect the position of Congress. Surgical strikes were carried out before 2014 by UPA government. Congress has supported & will continue to support all military actions that are in the national interest," Congress spokesperson Ramesh said.