Spiti puts brakes on car rallies in snow leopard habitat
Updated on Feb 09, 2021 04:26 PM IST
Bid to protect natural habitat of vulnerable wildlife species that come to lower elevation in Himachal Pradesh during winter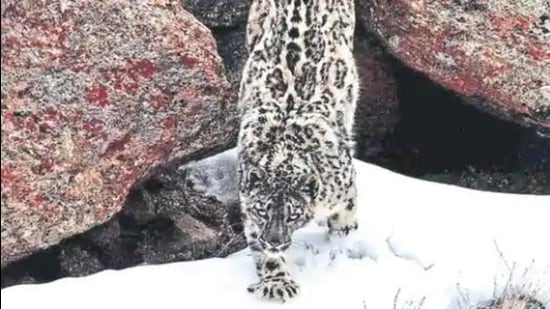 Given the threat it may cause to wildlife, particularly the state animal, snow leopard, the Lahaul-Spiti district administration has banned car rallies in the Kibber wildlife sanctuary area of Spiti valley.
A notification to this effect has been issued by additional district magistrate Gian Sagar Negi. "It has come to our notice that travel agencies organise car rallies, especially in winter, through the snow leopard landscape of Kibber wildlife sanctuary in the Spiti valley. In this season, wild animals such as the snow leopard, ibex, Himalayan serow, blue sheep and other high-altitude species come down to lower elevation due to heavy snowfall in the higher reaches," he said.
February and March are also the mating season of the snow leopard. Traffic through these landscapes not only disturbs the natural habitat of these animals but also affects the procreation of the snow leopard, declared a vulnerable species by the International Union of Conservation of Nature (IUCN).
Negi said both the state and central governments have initiated wildlife conservation projects. Snow leopard sighting is also the main attraction of winter tourism, a substantial source of income for Spiti valley residents.
He said since serving notices on all stakeholders is not practical, it was necessary to proceed ex-parte under Section 144 of the Code of Criminal Procedure (CrPC) and impose the ban.
"In the larger interest of conservation of the vulnerable species of wildlife, no car rally will be allowed to pass through the snow leopard landscape of Kibber wildlife sanctuary from the road through Lidang, Demul, Komic, Hikkim to Langcha and from Rangrik bridge to Chicham via Kee-Kibber village," he said.
The snow leopard's habitat ranges from the Kibber wildlife sanctuary in Lahaul and Spiti to Pangi in Chamba district. The cats are usually found in rugged terrain at altitudes between 9,800 feet and 17,000 feet.
Last month, the forest department released a survey report that estimated the population of 73 snow leopards in the state. The survey was conducted by the wildlife wing of the forest department and the Nature Conservation Foundation, Bangalore. The population of the animals has gradually increased in the valley since the wildlife wing initiated the Snow Leopard Conservation Project and began monitoring the animals in 2006.
Close Story
Gehlot faces criticism from section of Congress leaders over Dalit boy's death

Rajasthan chief minister Ashok Gehlot has faced criticism from a section of his party leaders over the death of a nine-year-old Dalit student in Jalore apart from opposition Bharatiya Janata Party. The boy died after a teacher allegedly thrashed him for drinking water from a pot meant for upper caste students and teachers. Congress lawmaker Panachand Meghwal sent his resignation to Gehlot on Monday citing rising cases of atrocities against Dalits.

Five of a family killed in road accident near Pune

Five members of a family were killed and one was seriously injured in a road accident near Ranjangaon MIDC (Maharashtra Industrial Development Corporation) on Pune- Ahmednagar highway near Karegaon, officials said. Police officials said that the accident took place after a container coming from the wrong side rammed into a car, at 1:30 am on Wednesday. All these are residents of Avane Budruk village in Ahmednagar district. Ranjangoan MIDC police are investigating the case.

Bengaluru crime watch: Gambling ring busted; 13 caught, over ₹1 lakh seized

Bengaluru City Crime Branch on Wednesday arrested as many 13 persons in connection with an illegal gambling ring and seized over Rs 1 lakh from them. The incident occurred within the Kodigehalli police station limits. The identities of the accused have not been revealed but CCB officials said the accused were running 'andar bahar' games in the gambling den. Andhar Bahar is a game of chance played with a standard deck of cards.

Karnataka Cong requests officials to remove Savarkar's posters in Udupi

The Congress party in Udupi district requested the police and district administration to remove Vinayak Damodar Savarkar's posters installed on the backdrop of Independence Day celebrations. Their move comes after Karnataka Police on August 15 imposed Section 144 in parts of Shivamogga district after a clash over Savarkar and Tipu Sultan's banners at Ameer Ahmed circle on Independence Day. Karnataka Home Minister Araga Jnanendra said nobody should take the law into their hands at any cost.

Bihar: 27 kanwariyas injured after bus hits divider near Purnia

At least 27 kanwariyas were injured, eight of them seriously, when a bus bound to Kishanganj from Deoghar hit the divider on NH-31 near Kajra bridge under Dagarua police station about 15km from Purnia district headquarters on Wednesday morning. Station house officer, Dagarua Ramchandra Mandal claimed the accident took place due to the negligence of the bus driver. An injured, identified as Ghan Shyam Pandit, said they were returning from Deoghar and were on their way to Chhatarghat in Kishanganj.
Personalise your news feed. Follow trending topics