Delhi schools shut again after push from SC
Published on Dec 03, 2021 12:23 AM IST
Criticising the Delhi government's decision to reopen schools, the Supreme Court said that "three-year-olds and four-year-olds are going to schools but adults are working from home".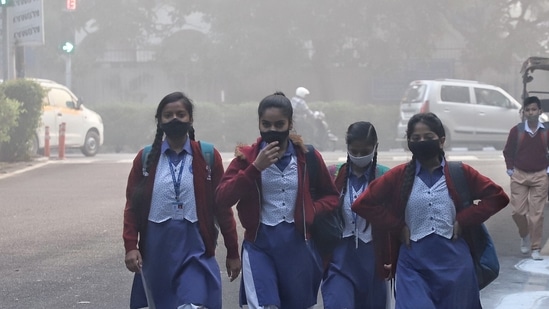 Hours after the Supreme Court criticised the reopening of schools as pollution levels shot back up, the Delhi government ordered all educational institutes shut until further orders -- a move experts said will prolong the learning crisis wrought by Covid-19 while doing little for the health of children who are likely to be exposed to the same air at home.
Also Read | SC pulls up Delhi govt for opening schools amid rising air pollution level
The air quality index (AQI) shot up to the severely polluted category to reach 429 at 4pm on Thursday, as a thick smog hung in the air under overcast skies. The rapid deterioration prompted the top court to take a hard line during the hearing, when it set a 24-hour ultimatum for the Delhi and Union governments to act on pollution.
"The schools had remained closed for a very long time and the decision to reopen them was made because pollution levels were decreasing in Delhi at that time. But as we can see right now, the pollution levels have started rising again. The government is constantly monitoring the situation. We have now decided to close the schools for all classes, once again from tomorrow (Friday)," environment minister Gopal Rai said on Thursday, shortly after the court hearing.
The apex court on Thursday expressed its dissatisfaction with the measures to control high pollution levels.
"We feel that nothing is happening and the pollution keeps increasing... only time is being wasted," Chief Justice NV Ramana said during the hearing, giving the Centre 24 hours to come with a "creative" action plan.
The court specifically criticised the Delhi government's decision to reopen schools and said that "three-year-olds and four-year-olds are going to schools but adults are working from home".
Also Read | Frequent closures a logistical nightmare, say Delhi schools
Abhishek Manu Singhvi, who appeared for the Delhi government, said: "There are various reports on learning loss due to school closure during the pandemic and therefore, it was decided to reopen the schools with the option of online teaching. But if this court wants us to reconsider, we will do it."
To this, the judges said: "Don't use our shoulders to fire shots. You are the government. You do your work. Who will sit at home when you open schools? You tell us about your decision tomorrow".
After the Covid-19 outbreak first hit India, schools in Delhi were closed on March 12, 2020. On January 18, 2021, schools were opened for classes 10 and 12, keeping practical work and board exam preparations in mind. On February 5, schools were reopened for the students of classes 9 and 11. The second wave of Covid-19 forced schools shut again from April 9. From September, reopening began in phases: with classes opening for 9-12 grades first, before the remaining were allowed to return to in-person attendance from November 1.
Pollution then forced schools to shut again for 13 days.The month went on to record the worst air quality since, 2015, when the Central Pollution Control Board (CPCB) started maintaining pollution records.
Tania Joshi, principal of The Indian School, said the frequent closure of schools was taking a toll on children, who were disappointed and perplexed by the abrupt closure. Joshi said relying too much on online classes will have long-term consequences for students.
"Schooling is an important part of growing children's life. Their childhood is getting affected due to the closure of schools. Schools are not a place for academics alone. The whole process of growing up and making friends, social and emotional interactions, has been affected. Adolescent children especially are getting affected. Their confidence is taking a toll. We can notice how students are becoming unsure of themselves," said Joshi.
The position was echoed by clinicians. "Children or adults are born to co-regulate. After staying at for home so long due to Covid, they were already tired. With the closure of schools once again, they are disenchanted. Children are craving a sense of normalcy. Their mood, appetite, attention space, and interaction are getting affected as they stay at home for long," said Clinical psychologist Dr Seema Hingorani, describing what she said were mental health impacts of keeping children away from schools.
Deputy chief minister Manish Sisodia clarified that even as schools shut, examinations for classes 10 and 12 will continue as before. "In view of pollution, all schools in Delhi will remain closed till further orders. However, the examinations related to the board will run as per the pre-determined schedule," tweeted Sisodia on Thursday. Schools will also be allowed to conduct examinations for students in classes 9 and 11, school heads and officials in the education department said.
On the directions of the Supreme Court, Delhi over the last one month has intermittently imposed a ban on the entry of trucks into the city, except those carrying essential items, banned construction activities and had also closed schools briefly.
Currently, all of these restrictions have been reimposed.
"For the past two months, we have been running an anti-dust campaign. All construction-demolition work is already suspended in Delhi, trucks from outside Delhi are also banned from entering Delhi," Rai said.
He added, "We have also started a special bus service to and from government offices so that people don't have to take their private vehicles to come to work. The capacity of metros and buses has already been increased. I would appeal to everyone that they should use public transport and avoid using private vehicles as much as they can."
Experts said that Delhi cannot rely on emergency action and ignore pollution control measures year-round.
"This season is proof that we need to concentrate more on comprehensive pollution control measures instead of only waking up when the pollution levels start worsening. Fire fighting can only help to a certain extent but unless emission from pollution sources is controlled throughout the year, you will not see any concrete difference," said Anumita Roychowdhury, executive director (research and advocacy), Centre for Science and Environment (CSE).
Personalise your news feed. Follow trending topics