For children of Afghan refugees in Delhi, education remains a distant dream
Mar 14, 2022 05:09 PM IST
Afghan children in the Capital are unable to attain education on account of various factors ranging from financial constraints to language barriers and lack of necessary documents
Dressed in a blue shirt and black headscarf, Nadia Anwari sits idle as she waits for customers in her rented grocery shop in south Delhi's Bhogal area on a warm March afternoon. Intermittently, she is distracted by her eight-year-old daughter Adaa, who prances around the small shop. A student of Class 1 in the neighbourhood Afghan school, Adaa has not seen her classmates and teachers for the past two years. Classes in the school are taking place remotely on account of a paucity of space even though most government and private schools in the Capital have reopened for physical in-person sessions since February.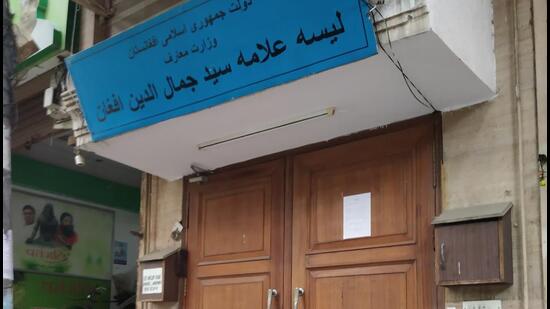 An Afghan refugee, Nadia has been living in India along with her husband and two daughters since 2017 amid concerns over their safety in Afghanistan. Starting life once again from scratch was not an easy task for the family which faced many challenges in finding their feet here. These troubles were compounded by the Covid-19 pandemic and its subsequent impact as the family's earnings dwindled.
The family has only one phone, which is used by Nadia's husband for work, due to which Adaa struggles to attend online classes.
"My husband returns from work around 11-11.30pm due to which my daughter is unable to attend online classes during the day. In the early hours of the morning, I borrow the phone and try to catch up on the lessons. However, she is unable to understand anything and seems disinterested due to the gap in lessons," said Nadia.
Her husband Rahim Anwari said the environment at home was not conducive for online classes. "There is only one phone at home and so many distractions. She struggles to study due to these reasons," said Anwari, who wants her daughter to get admitted to an Indian government school since the family cannot afford the fee of a private school.
"We want her to get admitted to an Indian school but since she doesn't understand Hindi, we don't think admission will be possible. Even we don't understand Hindi so we will not be able to help her out at home. We need assistance but are not sure whom to approach," said Anwari.
Adaa is one among the many Afghan children in the Capital who are unable to attain education on account of various factors ranging from financial constraints to language barriers and lack of necessary documents. According to United Nations High Commissioner for Refugees (UNHCR) annual report for 2021, the number of Afghan refugees and asylum-seekers registered with UNHCR India till December 31, 2021, stands at 15,916. However, as per Ahmed Zia Ghani, head of the Afghan solidarity committee in India, over 22, 000 Afghans live in India. The pandemic and the change in socio-political conditions in Afghanistan has further exacerbated the troubles of Afghans in India who have lost contact with family members back home in Afghanistan.
Farishta Ahmedi's eight-year-old son dropped out of school two years ago. Her son was studying in a low-cost private preparatory school in the Bhogal neighbourhood prior to the pandemic. With the suspension of physical classes amid the pandemic, Ahmedi discontinued schooling and hired the services of a tutor in the area for classes. "Till class 2, he studied from a tutor in the neighbourhood. However, when the teacher increased the payment, I discontinued the classes. Since then, I am trying hard to get him admitted to a government school since I cannot afford a private school. UNHCR officials have also promised to help but I am yet to hear from them again," said Ahmedi.
Till the time of filing of this report, UNHCR India representatives did not respond to an email request for comment. However, in its annual 2021 review report which was released on March 4, the UN refugee agency said that it had 19 learning centres in six states across India where it provided accelerated learning support to refugee students. The agency also shared that amid the pandemic it had provided 549 tabs/ digital devices to children whereas 630 children were supported with early childhood education and 2,420 students were facilitated for school/NIOS.
Ahmedi said that she had visited the neighbourhood government school multiple times to enquire about the admission of her son but had not received any clear answer. The school authorities, she said, had asked her to visit after some weeks.
"I have visited the schools 2-3 times but they ask me to come at a later time. I have a single child and want him to study at any cost," said Ahmedi, who came to India in 2013. A single mother, she shoulders the financial responsibilities through freelance stitching assignments or other odd jobs. "Payment is not assured since work is irregular. I get ₹50 or ₹100 per assignment for stitching or packing products such as masks," said Ahmedi.
Eighteen-year-old Zuhail Hussain Khil came to India along with her parents and siblings in 2017. The family had to flee from Afghanistan in the face of threats from the Taliban. Based out of the eastern city of Khost back then, the family decided to leave amid escalating threats from the Taliban aimed at Khil's mother, who worked with the United Nations. After coming to India, Khil enrolled in the National Institute of Open Schooling for completion of her studies through the UNHCR's partner NGOs. For the past two years, her classes have moved online. The remote nature of online classes coupled with the language barrier has meant that lesson comprehension has much more challenging. For the past two months, Khil has stopped attending classes.
Her two younger sisters who study in the neighbourhood Afghan school also dropped out of school as classes moved online amid the pandemic. Faiza, a class 2 student, and Zahra, a class 7 student, quit school a year ago as they struggled to understand lessons. "There was no regularity to online classes. So my sisters gradually lost interest in studies and quit school," said Khil.
The pandemic has compounded the troubles for the family which is dependent on the earnings of Khil's father, who works as a dishwasher at an Afghan restaurant in Lajpat Nagar. The salary from the job is barely enough to cover the rent of their accommodation.
Khil said they tried to get admission for her third sister, who is 15 years old. "But the school refused admission, saying admission is only given to children below 14 years of age," said Khil.
Most Afghans cannot afford private education, and not all government schools in India give admission to Afghan children due to norms in place that set a minimum age criteria for admission.
BK Sharma, principal of the Shaheed Hemu Kalani Sarvodaya Bal Vidyalaya in Lajpat Nagar where around 60 Afghan children study, said the school facilitated education for children at UNHCR's request. "Under the RTE, there is a provision for a special training centre (STC). Children without documents can be admitted to the STC according to their age. During a period ranging from six months to two years, the centre works towards bridging their learning gap. Once the bridge course is completed, they are brought to the mainstream," said Sharma. However, since RTE does not extend to children above the age of 14 years, such students are not able to enrol for schooling.
Sharma said that while children had returned to school with the resumption of physical in-person classes, a significant learning gap had risen due to the prolonged closure of schools. "Due to language barriers and other reasons such as digital divide, there is a learning gap. Currently, we are working towards filling the learning gap. We are focusing on improving the reading and basic competencies," said Sharma.
A senior official from the Delhi government's directorate of education said that while admissions in government schools took place throughout the year, exams were currently underway and the session was coming to an end due to which new admissions will be taken up in the upcoming session. "In April when the new session starts, prospective applicants can approach government schools for admission," said the official, on condition of anonymity.