In works: Sustainable solutions to address Delhi's crucial challenges
Published on Mar 14, 2022 12:06 AM IST
IIT Delhi has collaborated with a large number of organisations and academic institutions that are working on six key areas: air pollution, solid waste management, water security, use of artificial Intelligence or machine Learning in healthcare, sustainable mobility, and effective education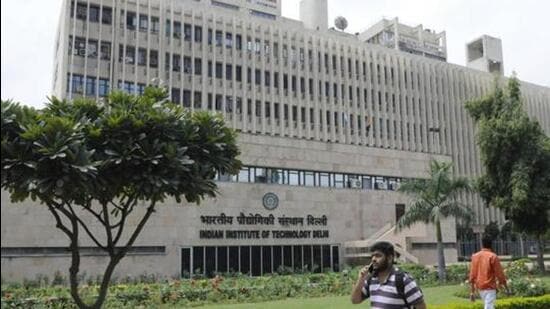 A low-cost sensor to monitor air pollution, an advance warning system to predict new infections for better pandemic preparedness, improving the efficiency of mass transport systems and a dashboard for pedestrian safety — these are some of the technology-driven solutions being developed under a central government initiative for the sustainable development of Delhi and the National Capital Region.
The projects are being carried out by the science and technology cluster, City Knowledge Innovation Cluster-Delhi Research Implementation and Innovation (CKIC-DRIIV), set up by the office of the Principal Scientific Adviser (PSA) to the central government last July. DRIIV is one of the six science and technology clusters in the country.
The initiative is led by experts from the Indian Institute of Technology, Delhi (IIT Delhi).
"The idea is to address key issues faced in the region related to environment, mobility, health, education, and others by providing innovative solutions and bringing them from the laboratory to the market," said Shipra Misra, chief executive officer and managing director of CKIC-DRIIV.
The science and technology cluster brings together industry-academia-government bodies on a single platform for collaboration. It's modelled on similar clusters in the western countries like the United Kingdom, the United States, and others. In western countries, these clusters have brought about a change within the country and contributed to the development of the regions where they are located, said Misra.
"The main task is to develop an ecosystem around science and technology where various players can come together and contribute in bringing innovation from the laboratory to the market. A lot of research work is being carried out by various organisations. We don't want to leave research on paper, directionless, but actually drive it along what is needed as per the national mission requirements and attract private funding for its implementation," said Misra.
To this end, IIT Delhi has collaborated with a large number of organisations and academic institutions that are working on six key areas: air pollution, solid waste management, water security, use of artificial Intelligence or machine Learning in healthcare, sustainable mobility, and effective education.
Amrita Dawn, technology liaison head of CKIC-DRIIV, said, "Over 40 academic institutions, government organisations, PSUs, private sector firms, and others from across north India have collaborated to address the challenges related to environment, socio-economic issues and sustainable development. Different organisations are developing solutions which will be implemented in Delhi-NCR and later scaled to the national level."
Though the cluster started work in July 2021, it already has a few projects in the implementation stages.
Finding solution to city's air pollution crisis
One of the key areas of work is to find solutions to the air pollution problem in the Delhi-NCR region and meet the target of the National Clean Area Programme (NCAP) of a 20-30% reduction in particulate matter (PM) levels in five years.
Regularly monitoring air pollution levels is essential for this, said Sagnik Dey, associate professor at IIT Delhi's Centre for Atmospheric Sciences. He leads DRIIV's air pollution.
Some of the key projects include hotspot management, developing low-cost sensors to monitor air pollution on a hyper-local level, as well as identifying villages and districts where controlling stubble burning will have the maximum impact on Delhi's air quality, among others.
For pollution hotspot management, the team has collected pollution data at the neighbourhood or municipal levels.
"We have data for a 100mx100m area. This gives us a better understanding of the pollution problem. For instance, as per our data, Shahdara, Connaught Place areas, among others have high pollution levels. We are now working on a strategy to manage hotspots," said Dey.
IIT Delhi is working with a start-up to develop low-cost sensors.
Delhi has 40 ground-based monitoring systems. But setting up a station and its maintenance is capital intensive, since each unit costs around ₹1-3 crore.
"Monitoring pollution levels is essential to find solutions to the problem. Despite having 40 monitoring stations, there is gap in pollution data collected from north, northwest, southwest areas of Delhi. The city's satellite towns — that are equally or more polluted — have just one monitoring station each. We are now developing low-cost sensors so that it can be deployed at a hyper local level," said Dey.
The team has started a project to study the impact of use of mechanical sweeping machines in controlling dust pollution, as there are no studies available to show this. This study is important as a lot of civic agencies are hiring or buying mechanical sweeping machines for cleaning arterial roads.
The cluster's long-term goal is to develop sustainable emission scenarios for the future to address air pollution and climate change simultaneously.
Other important projects
Another major focus areas where work has started are solid waste management and use of artificial intelligence or machine learning in healthcare.
To address the issue of stubble burning, Misra said, a team of experts is working on converting biomass to fuel, particularly hydrogen. The aim is to produce commercially viable hydrogen fuel cells in line with the national mission on building a 'hydrogen economy'.
On the healthcare front, work is on to develop a system that can provide information about new bacterial or viral strains in advance to policymakers to control and manage the spread of infectious diseases. "It started with Covid-19, which is not going to be the last of the pandemics. The next threat is already looming —antimicrobial resistance to bacteria. So, we have developed a system that can give us advance warning and allow enough time for policymakers to take measures. The team has already built the platform for strainflow database which provides two months advance notice to policy makers,"
In water security, the team is working on using low-cost technology to clean natural water bodies. Misra said, "We are also studying the overall water security of Delhi NCR region for next 20-25 years to assess what is the surface water and ground water availability. It will also suggest how we can recharge those systems and deploy efficient tech to manage the use of water, particularly irrigation that's where 80% water consumption is, to mitigate this problem."
In sustainable mobility, work is going to use technology to improve the bus transportation system, developing Electric vehicle charging infrastructure, batteries for EV etc. In education, work is going on in collaboration with school and college teachers to connect classroom teaching with real life problems and incorporate the use of the latest technological tools.
Misra said most of the projects are long-term and require industry support to have visible impact within a period of three to five years.
Topics
Personalise your news feed. Follow trending topics