NSA Doval to visit US for first ICET dialogue on January 31
Published on Jan 21, 2023 12:04 AM IST
National security adviser (NSA) Ajit Doval will visit Washington DC to participate in the inaugural high-level dialogue of the Initiative on Critical and Emerging Technologies (ICET) with his counterpart, United States NSA Jake Sullivan, on January 31, said people familiar with the development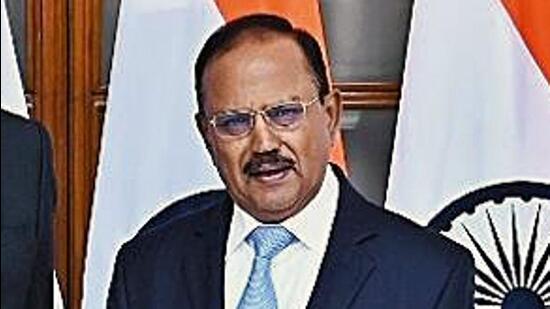 National security adviser (NSA) Ajit Doval will visit Washington DC to participate in the inaugural high-level dialogue of the Initiative on Critical and Emerging Technologies (ICET) with his counterpart, United States NSA Jake Sullivan, on January 31, said people familiar with the development.
ICET is a product of an understanding between Prime Minister Narendra Modi and US President Joe Biden as they decided to launch the bilateral initiative when they met in Tokyo in 2022 on the sidelines of the Quad Leaders Summit.
In a statement, the government of India said then: "Co-led by the National Security Council Secretariat in India and the U.S. National Security Council, ICET would forge closer linkages between government, academia and industry of the two countries in areas such as AI, quantum computing, 5G/6G, biotech, space and semiconductors." The White House said: "The leaders welcomed the launch of a United States–India Initiative on Critical and Emerging Technologies (ICET), spearheaded by the National Security Councils of the two countries to expand partnership in critical and emerging technologies."
The fact that the national security councils, led by Doval and Sullivan, are directly dealing with each other in the domain has helped in cutting through bureaucratic layers, enhancing coordination, finding new areas of cooperation, and fulfilling the spirit of what the leaders had intended, said a person familiar with the development. "Technology used to be an area of divergence between the countries; today, emerging and critical technologies are seen as the most exciting area of collaboration where we have strong complementarities," he added.
During his visit, Doval is also expected to have a separate bilateral meeting with Sullivan. On January 30, there will be a track 1.5 dialogue on the issues in the tech domain. The formal NSA-level dialogue on ICET is scheduled for January 31. And on February 1, India and the US will conduct a dialogue on space issues, which will also be attended by Indian Space Research Organisation chair S Somnath.
Speaking at the Carnegie Tech Summit in November in New Delhi, Tarun Chhabra, senior director for technology and national security at the US NSC and a key negotiator in the bilateral ICET mechanism, had explained its rationale.
"One, we share a recognition about vulnerabilities when it comes to certain technology supply chains, heightened obviously by Covid and concentration in certain geographies and a mutual desire to build more resilience in each of our systems. Second, a recognition that we need to expand the scope of what we have traditionally thought of as strategic technologies. We both recognise the central role of technology in strategic competition. And finally, when it comes to governance, what is inside the black box matters a lot and the ways we shape, develop and deploy technologies, we are seeing a lot of convergence."
Pointing out that there were three simultaneous significant transformations — in terms of geostrategy, digital, and industrial strategy — Chhabra said that tangible outcomes can be expected from the first NSA-level dialogue.