Public money meant to give free education, not help friends: Delhi CM Kejriwal
Updated on Aug 10, 2022 03:01 AM IST
The move to target the BJP and the Congress comes amid the AAP's preparations to contest the upcoming assembly elections in Gujarat and Himachal Pradesh.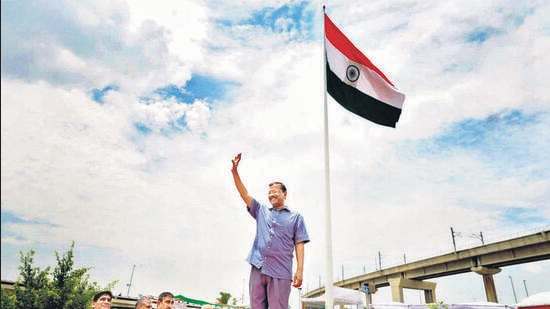 Providing quality education and health care is the duty of a responsible government, Delhi chief minister Arvind Kejriwal said on Tuesday, continuing his attack on the central government over so-called freebie politics ahead of assembly elections in Gujarat and Himachal Pradesh.
"Writing off debts of ₹10 lakh crore owed by your friends is a freebie. Writing off the tax to be paid by your friends is a freebie," the Aam Aadmi Party chief said, insinuating that the Centre was indulging in crony capitalism.
"The income-tax department, CBI (Central Bureau of Investigation) and ED (Enforcement Directorate) are conducting raids on a lot of people, but not their friends. Entire country is being run for a few friends. Earlier it was being run for a single family," Kejriwal said in a veiled attack on the Bharatiya Janata Party and the Congress.
Kejriwal made similar remarks during a digital address on Monday. The move to target the BJP and the Congress comes amid the AAP's preparations to contest the upcoming assembly elections in Gujarat and Himachal Pradesh. After Delhi and Punjab, AAP has been recognised in Goa as a state party by the election commission. If it is recognised in one more state, the AAP will become a national party, which would boost its chances in the 2024 general elections.
"After Delhi and Punjab, AAP is now a state recognised party in Goa too. If we get recognised in one more state, we will officially be declared as a "national party". I congratulate each and every volunteer for their hard work. I thank the people for posing faith in AAP and its ideology," Kejriwal said in a tweet on Tuesday.
The AAP has also sought to intervene in a public interest litigation in the Supreme Court, saying electoral promises such as free water, electricity and public transport are not "freebies," but merely a state discharging its "constitutional responsibilities" to create an equitable society.
Kejriwal was speaking on Tuesday at an event in east Delhi, where the AAP government unveiled the 500th national flag in the national capital.
"I don't understand what a freebie is at all. Where will poor children go if we close government schools or ask them to pay fees? There are 39 countries in the world that offer free education for everyone. How did these countries become rich powers? Through free education for the masses. Free education, free health care and employment must be fundamental rights," Kejriwal said.
In the 2021-22 budget for Delhi, the AAP government had announced that it will install 500 national flags across the capital, a move aimed at instilling patriotism among the people to mark the 75th year of India's Independence. The tricolour hoisting exercise got underway in November last year.
On the 75th year of Independence, people should think how so many countries have overtaken India and why does our country India lag behind, Kejriwal said.
"Our country lagged behind because of parivarwaad (dynastic rule) and dostwaad (crony capitalism)," the Delhi chief minister said. "There is one party which only worked for a single family and all the taxpayers' money was spent on that family. And the other party only worked for their friends. They emptied the exchequer for their friends."
"We should take a pledge to end parivarwaad and dostwaad from the country. The government's money will not be spent on a family or few friends, but on the education and employment of poor children. It will be spent on providing free public health care to the people," he said. "Only bharatwaad (nationalism) will reign supreme in this country and parivarwaad and dostwaad will end."
The Kejriwal government has increased the pride of the tricolour by providing free education, health care, electricity and water to citizens, deputy chief minister Manish Sisodia said.
"The goal behind this project (installing poles to fly 500 national flags) is to invoke and inculcate deshbhakti (patriotism) in every citizen every day," Kejriwal said, adding that everyone should take a pledge to make India great.
"Even countries like Japan and Germany, which were left in ruins after the Second World War, surpassed our development," Kejriwal said. "We don't suffer from lack of potential, hard work or intelligence; we suffer from lack of political willingness and intent."
Delhi BJP spokesperson Praveen Shankar Kapoor, meanwhile, accused Kejriwal of misusing the Independence celebration week to make "unfounded and baseless political statements". "While the central government is working hard to make people self-dependent and capable to pay for all their needs, Kejriwal's politics revolves around freebies because he has not done anything for the people on the basis of which he can seek votes," Kapoor said.
"Kejriwal should be aware that most of the loans lost by banks are those given during UPA regime, so Kejriwal should ask Congress leaders about it," Kapoor added.
Personalise your news feed. Follow trending topics