Melanistic Asiatic golden cat captured on camera for first time in West Bengal
Jan 29, 2023 05:30 AM IST
The finding was recently published in the CATnews, the newsletter of the cat specialist group of the International Union for Conservation of Nature's (IUCN) species survival commission
Officials of the Buxa Tiger Reserve (BTR) in north Bengal said that they were able to capture some pictures of rare and elusive melanistic Asian golden cat in the camera traps, set up in the dense forests to monitor tigers.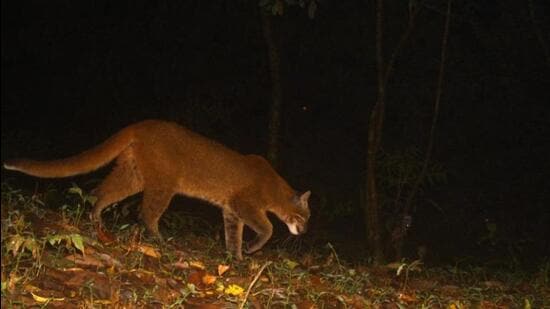 According to the experts, these are the first photographic records of the melanistic Asian golden cat, also known as the Temminck's cat, from West Bengal.
"This is the first record of the melanistic Asian golden cat from BTR as well as from West Bengal," said Parveen Kaswan, deputy director of BTR.
"Camera traps were set up in the BTR between December 2020 and June 2021 as a part of a study to monitor the long-term movement of tigers. The cameras captured 17 photos of Asiatic golden cats out of which five were of the melanistic morph," said Kaswan.
Also Read: India to get 12 cheetahs from South Africa every year, MoU inked
The finding was recently published in the CATnews, the newsletter of the cat specialist group of the International Union for Conservation of Nature's (IUCN) species survival commission.
The melanistic morph was earlier reported in Nepal, Thailand, Sumatra and Bhutan.
In India, the Asiatic golden cat was reported from protected areas of West Bengal, Sikkim, Assam, Arunachal Pradesh, Meghalaya, Mizoram and Nagaland.
"In India, the melanistic morph has been earlier reported from north-eastern states including Sikkim, Assam and Arunachal Pradesh. Golden brown and spotted or ocelot morph of the Asian golden cat had been reported from BTR, but never the melanistic form so far," said Subhankar Sengupta, former director of the BTR.
The Asiatic golden cat is listed as 'near threatened' in the IUCN list of threatened species. In India, it is included in 'schedule I' of the Wildlife (Protection) Act, 1972 enjoying the highest protection equal to that of tigers, elephants and lions.