Cameras inside e-buses in U.P. linked to control room for efficient monitoring
Published on Aug 10, 2022 01:20 AM IST
Cameras installed in electric buses or e-buses in Lucknow would now be linked to bus depot control room for efficient monitoring of passengers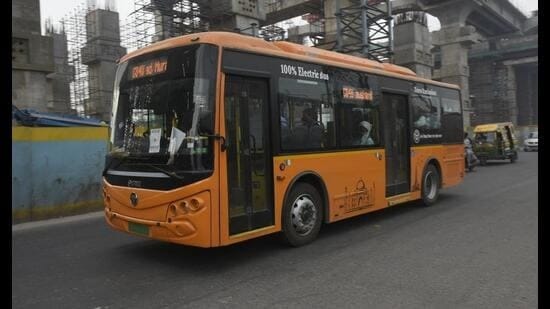 Cameras installed in electric buses or e-buses in Lucknow would now be linked to bus depot control room for efficient monitoring of passengers.
"The cameras have been linked to our control room and monitoring has begun by control room staff. Now the acts of eve-teasing or theft would be efficiently checked," said Pallav Bose, a senior official of Lucknow City Transport Services.
He said passengers, particularly women, could feel even safer while travelling in electric buses with cameras installed and had been linked to bus depot control room for live monitoring and recording.
There are 105 electric buses or e-buses in Lucknow, running on 22-routes.
"Any objectionable move by any passenger will be noted, the driver and conductor will be informed and even cops will be involved by the control room itself. The conductor will also get an SMS regarding any issue inside the bus and will be directed to take action including handing over the trouble maker to the nearest police station, said the official.
Everyday about 12,000 passengers travel via these e-buses, which include approximately 4000 women, children and elderly passengers.
Electric buses were introduced early this year. They were brought keeping in view the aim to reduce pollution levels, particularly the pollution coming out from public transport vehicles.
Personalise your news feed. Follow trending topics