UP: Rewati Raman 'miffed' at being denied RS berth this time
Senior Samajwadi Party (SP) leader Rewati Raman Singh, whose present term (2016-22) in the Upper House of Parliament will end next month, seems to be miffed at being denied Rajya Sabha ticket this time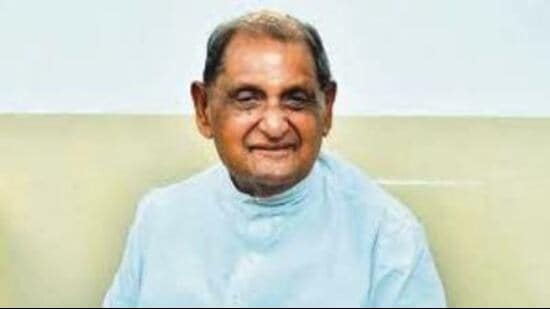 Updated on Jun 07, 2022 08:15 PM IST
Senior Samajwadi Party (SP) leader Rewati Raman Singh, whose present term (2016-22) in the Upper House of Parliament will end next month, seems to be miffed at being denied Rajya Sabha ticket this time.
Although Singh has denied speculations that he may join the Bharatiya Janata Party (BJP), the senior SP leader, who has always been regarded as a trusted lieutenant of SP patriarch Mulayam Singh Yadav, feels let-down.
Talking over phone from Lucknow, Singh said, "My performance as a Rajya Sabha MP has been commendable and I earned appreciation from the Chair too. I don't understand why I have been denied the ticket this time."
"This has led to dissatisfaction among the party cadre in trans-Yamuna area of Prayagraj and elsewhere as well," he added. The senior leader, who is popularly called 'Mani Ji' and holds the record for being eight-time MLA from Karachhana assembly seat of Prayagraj (1974-2004) and ex-MP of Prayagraj (2004-14) is also disheartened by the repeated instances of senior leaders being sidelined within the SP.
"I am witnessing that over a period of time that SP is no longer the same party that we built by our hard work. Mulayam ji was a leader who always took everyone along. But things have changed now and we seniors are being sidelined," he said.
On possibility of his joining the BJP, Singh said, "As of now, I am with the SP and have not thought of joining the BJP. But it is true that my supporters are very disheartened that I have been denied the party's Rajya Sabha ticket this time." Singh also served as a cabinet minister in the UP government from 1979-1980 and then again from 1989-1990.
Politics of trans-Yamuna area of Prayagraj has always been dominated by this senior leader of SP for the last four decades now. Apart from being an MLA from Karachhana, he has also served as an MP from Allahabad seat. He defeated veteran BJP leader Murli Manohar Joshi in 2004.
After Singh, his son Ujjwal Raman Singh was elected MLA from Karachhana in 2017. However, in 2022 he lost to Piyush Ranjan Nishad of BJP. Upset over Rewati Raman Singh having been denied a Rajya Sabha ticket, resignations by his supporters have also started. Singh's representative and SP's Prayagraj city unit's vice-president Vijay Vaish has already resigned from the party's membership. He has also resigned from his membership of Lohia Trust.
Close Story
Personalise your news feed. Follow trending topics