Farmers, APMC traders worry about damage to fruits due to unseasonal rains
The unseasonal rains in different parts of Maharashtra over the last few days have given a cause for concern to the farmers and traders of APMC about the damage to crops of seasonal fruits; either the prices are increasing or the quality of fruits are decreasing, they claim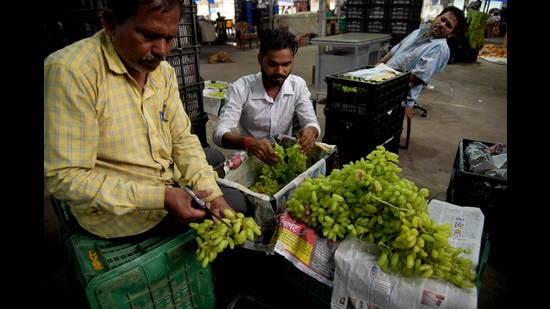 Published on Dec 02, 2021 07:04 PM IST
The unseasonal rains in different parts of Maharashtra over the last few days have given a cause for concern to the farmers and traders of APMC about the damage to crops of seasonal fruits.
This can also lead to degradation in quality or increase in prices. Even the much-loved Alphonso mangoes, which are in the pre-flowering stage, might be delayed this year. Fruits like grapes, anjeer and strawberry would also bear the brunt of the unseasonal rains with the flowering crops and the crops in the pre-flowering stage completely destroyed.
Gulab Neharkar, grapes farmer and supplier for the last 35 years, has not seen any losses like the ones he is facing since the last three years. "The unseasonal rains have been an issue since the last three years. Since last year, Covid has also added to our woes. In the last two days, all the crops that were in the flowering and pre-flowering stages have been completely damaged. The crops have been infected with diseases like downy mildew and powdery mildew due to which we are spraying on the crops all day and night to save them. This has led to the rise in the expenses of the manufacturing of grapes. The cost of labour, and fungicides-pesticides have gone up due to the higher usage. Many farmers are planning to abandon the work of farming and sell off their lands due to the unpredictable climate," Neharkar from Junnar in Pune, said.
Director of fruits market in APMC, Sanjay Pansare, said that similar to the grapes even strawberry, anjeer and mangoes have suffered. "Grapes come mainly from Nashik, Pune, Sangli and Solapur, and wherever there has been rain, the crops have suffered. The fruits that are coming now are of lower quality due to this. The price has not increased but the quality has decreased. The mangoes that would have otherwise started coming in by February 15 will now come only after February. A farmer who would have got 90 days to sell the produce will now get only 60 days in the market," Pansare said.
Currently, one kilogram of grapes cost ₹100- ₹125 and 400g of anjeer and strawberry cost ₹150 in the wholesale market.
Close Story
Personalise your news feed. Follow trending topics