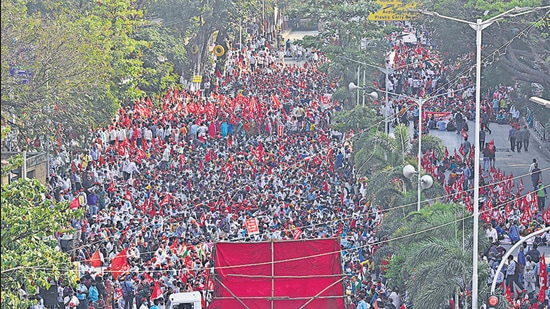 Farmers march to Mumbai; nationwide protests today
Maharashtra ruling parties attend sit-in in Mumbai; farmers announce plan to march to Parliament on February 1
UPDATED ON JAN 26, 2021 03:29 AM IST
Braving sore feet and cold nights, thousands of farmers and farm labourers from 21 districts across Maharashtra held a sit-in at south Mumbai's Azad Maidan on Monday, protesting against the three contentious farm laws passed by the central government while also showing solidarity with farmers at Delhi's borders who have been camping there for the past two months.
The farmers, united under the banner of Samyukt Shetkari Kamgar Sanghatana (SSKS), reached Mumbai on Sunday evening, a day before India's 72nd Republic Day, when farmers in different parts of the country will take out rallies — some of them involving tractors — against the laws.
At least a dozen key leaders from the Nationalist Congress Party (NCP), the Congress and the Shiv Sena, who form Maharashtra's ruling alliance, stood in support of the farmers demanding repeal of the three laws that aim to open up agricultural trade. Farmers say the laws will eventually help big corporates.
At the programme, Nationalist Congress Party chief Sharad Pawar hit out at the Centre. "The BJP-led NDA (National Democratic Alliance) passed the laws without any discussion in Parliament and in just one day on the basis of the majority... farmers have the power to uproot political leaders who have been acting arrogantly," Pawar said.
Pawar said during his stint as the Union agriculture minister in 2013, the then United Progressive Alliance (UPA) government deliberated farm reforms by convening three meetings with agriculture ministers of states, but could not build a consensus.
The Centre, however, says the reforms were much needed, and will lead to new opportunities in agriculture trade. It says farmers are being deceived by people who have "misled them for decades".
In Maharashtra, farmers also tried to march towards the governor's house, but the police stopped them. Governor Bhagat Singh Koshyari, who holds additional charge of Goa, was there to address the customary first session of state legislature on Monday.
Farmers refused to submit their memorandum to Raj Bhavan officials.
Monday's protests saw farmers pouring in from Nashik, Nandurbar, Dhule, Ahmednagar, Jalgaon, Aurangabad, Hingoli, Palghar and Thane districts, among others. Some of them walked as far as 200km.
Nirmala Pagi, 35, a farmer from Palghar district, left her four children with her mother-in-law and joined the march. "The outcome of the farmers' protest in Delhi is dependent on how much support they have from all of us. If we unite, maybe the government will listen to us and repeal the three farm laws," she said.
Farmers at Delhi's borders, mostly from Punjab and Haryana, have planned a tractor march on Republic Day. They also plan a march to Parliament on February 1.
In the districts of Sonbhadra, Varanasi and Ghazipur in eastern Uttar Pradesh, farmers' leaders alleged that the police asked tractor owners not to drive their vehicles on January 26, even as the opposition Samajwadi Party planned to organise a tractor parade.
"All police personnel, including circle officers, station officers, sub-inspectors and constables have been instructed to remain in their respective police station areas and carry out vehicle checking, including tractors," said a police officer in Varanasi, requesting anonymity.
In Haryana and Punjab, a section of farmers continued to move towards Delhi in their tractors, leading to traffic snarls at several state and national highways.
However, farmers' bodies in the two states have asked protesters not to disrupt official Republic Day functions anywhere.
In Karnataka, several tractors began reaching the outskirts of Bengaluru on Monday to participate in a planned parade. But farmers' groups alleged that the state government was trying to restrict the movement of the vehicles.
"If the government stops people from coming to Bengaluru, we will begin similar protests in every district...," said Chamarasa Malipatil, honorary president of farmers' group Karnataka Rajya Raitha Sangha.
Protests were also planned in West Bengal, Rajasthan, Gujarat, parts of Odisha, Jharkhand, Chhattisgarh and Madhya Pradesh.
(With inputs state bureaus)
Close