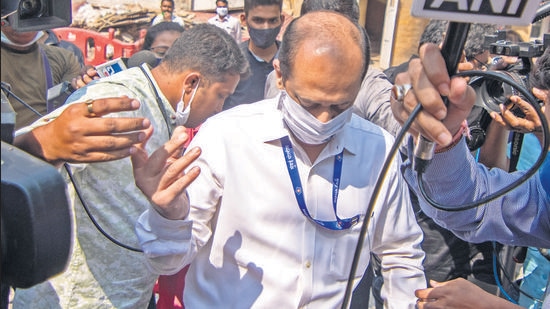 Mansukh Hiran death: Know Sachin Vaze, the police officer who was transferred
On Wednesday, Vaze reached the Mumbai police headquarters in Crawford Market around noon and had a two-hour long meeting with Mumbai police commissioner Parambir Singh. Through the course of the day, he also met other senior officers in the crime branch.
PUBLISHED ON MAR 11, 2021 12:28 AM IST
A day after leader of Opposition Devendra Fadnavis sought the arrest of Mumbai crime branch officer Sachin Vaze, home minister Anil Deshmukh announced his transfer in the legislative council on Wednesday.
"We have decided to move Sachin Vaze. He will be moved from Crime Branch. An impartial inquiry will be done and whoever is guilty will face action," Deshmukh told the House on the last day of the Assembly session, as Bharatiya Janata Party demanded his suspension.
The 49-year-old cop finds himself at the centre of political battle between the Bharatiya Janata Party, which is in opposition in the state, and the ruling Maharashtra Vikas Aghadi (MVA) coalition, with both sides trading barbs.
On Wednesday, Vaze reached the Mumbai police headquarters in Crawford Market around noon and had a two-hour long meeting with Mumbai police commissioner Parambir Singh. Through the course of the day, he also met other senior officers in the crime branch.
Later in the evening, Vaze told media persons gathered at the headquarters that he had had conversations with senior police officials about the allegations made against him . "I will clarify my side of the story and release a statement on Thursday," he said. Vaze met the ATS team investigating the murder of Mansukh Hiran, who recorded his statement over the span of eight hours on Monday.
Fadnavis told reporters outside the Assembly that the MVA government was worried that Vaze might disclose links to some people in the government in the Hiran death case.
"After we raised the issue in the lower house, state home minister admitted during our meeting in the presence of deputy speaker Narhari Zirwal to suspend Vaze. However, later, the chief minister intervened and the decision was changed," Fadnavis said.
In turn, Sena legislator Bhaskar Jadhav said that Vaze was being targeted because he was involved in the arrest of Republic TV editor-in-chief Arnab Goswami, who is implicated in the 2018 suicide of a designer, and alleged that Fadnavis had protected the journalist, as he was chief minister at the time.
"Vaze is being targeted because he was in the team which arrested Republic TV's Arnab Goswami [in November 2020] for his alleged involvement in the Naik case," Jadhav said.
Who is Sachin Vaze, and why has his name come up in connection with the death of Mansukh Hiran, an auto parts dealer linked to the SUV found parked outside billionaire Mukesh Ambani's residence on February 25 with 20 sticks of gelatin and a threatening letter?
A day after a Scorpio was found parked on Carmichael Road, Deshmukh released a video statement stating that the Mumbai crime branch would investigate the case. Assistant police inspector Sachin Hindurao Vaze (49), who headed the crime intelligence unit (CIU) of the Mumbai police crime branch, took the lead in the investigation.
The Scorpio was traced to 48-year-old Hiran, a Thane resident, who had reported the car stolen on February 18. Hiran was called in for questioning after the link was discovered, thanks to the stolen vehicle complaint filed by him at Vikhroli police station.
On March 4, Hiran died under mysterious circumstances: his body washed up on a creek in Thane district, his mouth stuffed with handkerchiefs and covered with a scarf, and all his personal belongings, including his ring, chain and wrist watch, missing from the body.
Three days later, Hiran's wife, Vimla (43), gave a statement to the Maharashtra Anti-Terrorism Squad investigating team that she was certain Hiran had been murdered, and she suspected Vaze had a hand in it.
"Taking into consideration all the above circumstances, I am sure that my husband was murdered," the last few lines of the statement read. "I suspect Sachin Vaze could have committed the said murder."
Her statement revealed that Hiran knew Vaze well, and that he had lent him the Scorpio in question in November. Vaze returned the car on February 5.
Vaze did not respond to repeated calls and messages. The story will be updated when and if he responds.
From police to politics
Vaze joined the Maharashtra police force in 1990 as a sub inspector. His first posting was in Gadchiroli, a Naxal affected area and he was moved to Thane city police in 1992. It was here that he gained a reputation of being a good criminal investigator. He was later inducted in the Special Squad of Thane crime branch, where he gained a reputation as an encounter specialist.
In 2000, Vaze was transferred to the Powai unit of the Mumbai crime branch. It was during his stint here when, together with three other policemen, he faced a charge of murdering Khawaja Yunus, an accused in the December 2, 2002, Ghatkopar blast case when a bomb placed under the seat of a BEST bus parked outside Ghatkopar railway station went off, killing two persons and injuring several others.
Yunus, a 27-year-old software engineer, was arrested by the Mumbai crime branch, and later reportedly died in police custody. The state Crime Investigation Department (CID) charged Vaze and three other police personnel -- Rajendra Tiwari, Rajaram Nikam and Sunil Desai -- with murder and destruction of evidence on March 3, 2004. Following this, Vaze was placed under suspension.
Vaze eventually resigned from service on November 30, 2007. The following year, he joined the Shiv Sena.
The assistant police inspector was eventually reinstated in the police force on June 6, 2020. So were the three other policemen who were booked for their alleged involvement in Yunus's custodial death. A dispute over the framing of charges in this case is pending before the Bombay high court.
High-profile arrests
At his current position in the CIU, Vaze handled a few high-profile cases, including the television rating point (TRP) manipulation case in which 15 persons including Partho Dasgupta, former chief executive officer of the Broadcast Audience Research Council (BARC) were arrested. The case pertained to Republic TV, owned by ARG Outlier Media, which had allegedly benefited from purported manipulations of TRPs. The CIU filed a voluminous charge-sheet against Vikas Khanchandani, CEO of Republic TV, Dasgupta and Romil Ramgarhia, former CCO of BARC, earlier this year in January.
Vaze was also part of the police team that arrested news anchor Arnab Goswami in November 2020, in connection with designer Anvay Naik's suicide.
The police said that Naik and his mother Kumud Naik were found dead in May 2018. According to a suicide note, Naik alleged that he and his mother were forced to end their lives because he was not paid his dues amounting to ₹5.40 crore by Goswami and two others identified as Feroz Shaikh and Nitesh Sarda -- owners of two different firms, they added.
On December 28, 2020, Vaze arrested famous sports car designer Dilip Chhabria after police found that he and his firm, Dilip Chhabria (DC) Designs Pvt Ltd, in connection with allegations of cheating and forgery to avail loans on sports cars made by his firm.
Vaze was also handling the case registered on the basis of a complaint lodged by Bollywood actor Hrithik Roshan after his exchange of legal notices with actor Kangna Ranaut in 2016. The case was originally registered with the Cyber police station at Bandra Kurla Complex and was recently transferred to the CIU for further investigation.
Close