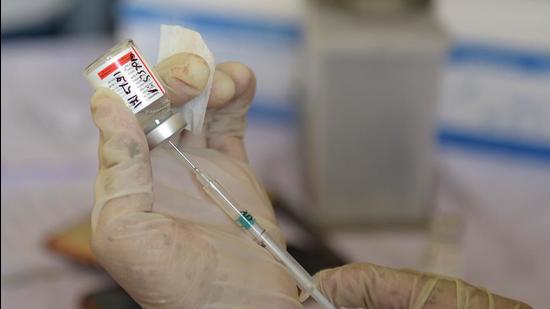 No response yet, BMC likely to extend deadline for global vaccine bid
The BMC has planned to procure 10 million vaccine doses from the international market in order to speed up the drive in city. For this, it floated a global expression of interest on May 12 for which the last date of bidding is May 18. It may extend the date by a week as it has not received any response
By Mehul R Thakkar
UPDATED ON MAY 19, 2021 01:11 AM IST
The Brihanmumbai Municipal Corporation (BMC) on Tuesday extended the deadline for participation in the tender floated for procurement of Covid-19 vaccine from the international market. As BMC failed to get any bids from vaccine manufacturers yet by the last date – May 18 (Monday) – the civic body revised the deadline by a week to May 25.
BMC did receive three proposals for licences of Russia's Sputnik V vaccine but they were not formal bids, said civic officials.
Additional municipal commissioner P Velrasu said, "We have extended the bid date by one week. We have received three proposals. All of them are for Sputnik vaccine but are incomplete in paper work. So we have given the extension."
On Monday, Velrasu had said, "We have not got any response yet, and we are likely to extend the last date for bidding by one more week. A final decision will be taken on Tuesday evening."
Also Read | Padma Shri awardee Dr KK Aggarwal succumbs to Covid-19
The BMC has planned to procure 10 million vaccine doses from the international market in order to speed up the drive in city. For this, it floated a global expression of interest on May 12.
According to officials, any interested supplier can bid for the tender. China has been restricted from bidding. Further, the vaccines that do not have Centre's approval will have to get the same on their own, according to BMC's tender document.
Meanwhile, Shiv Sena MP (Member of Parliament) Rahul Shewale has written to Prime Minister Narendra Modi, demanding that a uniform set of guidelines for global tenders of vaccine procurement be formed.
"Through a state-wise global tender, the states are only pitting against each other. This is creating unhealthy competition between states and the only entity that is most likely to benefit from this is vaccine manufacturers, "Shewale stated in his letter.
He added, "I suggest that the Central government step in and frame guidelines for procuring these vaccines that would suffice the needs of the country. The government should create a single-window clearance to fast track the system for vaccine-related approvals."
Shewale also highlighted that due to shortage of vaccines, immunisation for the 18-44 year age group has been suspended."
On Tuesday, 16,754 citizens were vaccinated in the city of which 4,274 were in the age group of 18 to 44 years of age, 2,514 in the age group of 45 to 59 years of age group and 9,474 were above the age of 60 years. This followed by 98 beneficiaries being health care workers and 394 being front line workers. Overall, in the city 2,858,103 citizens were vaccinated.
"According to our estimates, around 300,000 senior citizens are yet to take their first dose of vaccine. Based on the response this week, we will decide whether to continue vaccination for senior citizens on a walk-in basis or not. On Tuesday, the response was probably low due to rainfall but we expect the response to get better from Wednesday," said Suresh Kakani, additional BMC commissioner.
Close