Now, health workers make home visits to screen for diabetes and hypertension
Jan 07, 2023 12:28 AM IST
People who have been marked as suspects for a certain lifestyle disease would get regular follow-up visits to keep a check on their health. If they choose to, they could also consult the local BMC doctors regarding the lifestyle changes that they can adopt in order to prevent themselves from being afflicted with the suspected disease
Mumbai: In order to keep the prevalence of non-communicable diseases (NCD) in check, civic health workers are now making home visits to screen people and get them help. Those found to be at risk of developing diseases like diabetes or hypertension are consulted at the Hinduhridaysamrat Balasaheb Thackeray (HBT) polyclinics in their locality for regular follow-ups.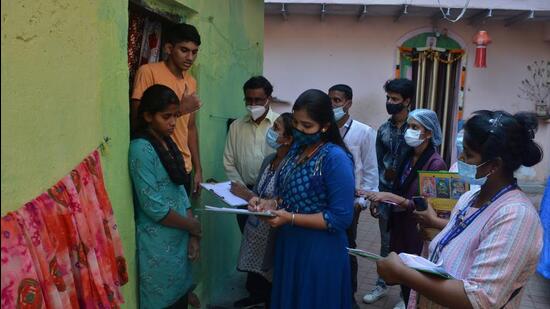 In August 2022, the Brihanmumbai Municipal Corporation (BMC) started screening all individuals over 30 years of age for NCDs like diabetes and hypertension. NCD corners were made operational in all municipal hospitals for this. Data analysis of these screenings showed that 11% of all people who were tested were at risk of developing hypertension, 10.86% could develop diabetes and 4.18% faced the risk of developing both.
On Wednesday, the first of the weekly population-based surveys were conducted at 67 health posts in 24 wards of the city. "Community health workers (CHVs) and Accredited Social Health Activists (ASHAs) have been engaged in screening people's health by visiting them at their homes. The people whose health parameters are found to be beyond normal are being labelled as suspects, and are told to consult the doctors at the nearest BMC dispensary or HBT clinic," said additional municipal commissioner Dr Sanjeev Kumar. More than 4,500 people were screened on the first day of home screening, he added.
People who have been marked as suspects for a certain lifestyle disease would get regular follow-up visits to keep a check on their health. If they choose to, they could also consult the local BMC doctors regarding the lifestyle changes that they can adopt in order to prevent themselves from being afflicted with the suspected disease.
This home-to-home screening is being conducted as a part of the National Programme for Prevention and Control of Cancer, Diabetes, Cardiovascular Diseases & Stroke (NPCDCS). As of now, the screening programme is planned to be conducted every Wednesday in many of the city's slum areas. Based on the response and results of the screening, the BMC might extend it to other residential areas.
Dr Kumar appealed to all residents of the city to get their blood sugar and blood pressure examined by their doctors regularly. He said that they could visit the nearby municipal dispensary for this, and also to get advice about a healthy lifestyle through changes in their eating habits, diet and physical activity.