Sheezan's family blames depression, Tunisha's mother for actor's suicide
Jan 02, 2023 09:58 PM IST
The family of Sheezan Khan, who has been arrested in the Tunisha Sharma suicide case, has alleged that the actor ended her life because of the depression caused by her childhood trauma, and her controlling mother
The family of Sheezan Khan, who has been arrested in the Tunisha Sharma suicide case, has alleged that the actor ended her life because of the depression caused by her childhood trauma, and her controlling mother.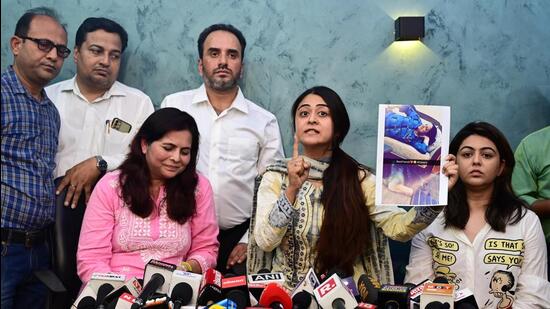 Tunisha was found dead on the sets of her television serial on December 24. The next day, the Waliv police in Vasai (East) arrested her co-star, Sheezan, on charges of abetting her suicide based on a complaint filed by her mother, Vanita.
The complainant alleged that Sheezan was cheating on her daughter and broke up after she confronted him about his other love affairs. She also said Sheezan's family had forced religious practices on the 21-year-old actor.
Addressing a press conference in Andheri on Monday, Sheezan's sisters, Falaq and Shafaq Naaz, and mother, Kehkashan Faisi, refuted Vanita's allegations and said his arrest was illegal. Initially, they accepted that the two had parted ways on good terms as Tunisha's mother was against their relationship. However, later, Falak claimed that the couple had not broken up.
On December 23, Falak said, Tunisha told her co-actor Parth in his make-up room that she wanted to show him something provided he did not get angry. When Parth agreed, she showed him a picture of a noose. Parth shouted at her after which she said she was not intending to use it, Falak claimed.
"That is when Sheezan intervened and called her mother up to come over to the sets. He asked Vanita to take care of Tunisha and spend time with her as she was showing signs of mental illness," Falak said.
"We are sensitive to signs of depression and do not take them lightly as we too have an autistic member in our family. Sheezan had also experienced trauma while growing up and wanted to help Tunisha," his sister said.
Sheezan's mother alleged that Tunisha had shared with them details of her mother being controlling and forcing her to work in spite of she repeatedly telling her that she wanted to go on a world tour.
"Had Vanita not been controlling Tunisha would have been alive. What does Vanita want by targeting my son? She has lost her only daughter; now does she want my son to die by suicide?" Kehkashan asked.
The family also said when they learnt about Tunisha's unhappiness, they confronted Vanita at her home and the latter confessed to have neglected her daughter.
About the "love jihad" allegations made by Tunisha's mother, Shafaq said, "The photo used by Vanita to allege that she was made to wear hijab was taken on the sets when she was in a costume on the day of Ganesh Chaturthi. And the caption of the photo clearly said she was wishing people for the occasion."
Tunisha's mother, who is in Chandigarh for rituals, could not be reached for her comments. Her uncle Pawan Sharma too did not respond to calls.
"There is no mystery girlfriend of Sheezan and the police do not have any evidence," his lawyer Sharad Rai said, adding they had appealed to the court to provide counselling and security to the actor in order to prevent him from taking a drastic step.
Sheezan, who is currently in judicial custody, filed a bail application in the Vasai court on Friday.