50% of invigilators shouldn't be in-house teachers, orders CM Yogi over cheating
Jan 29, 2023 12:16 AM IST
Outside teachers should be kept on duty to ensure that the upcoming board examinations -- starting on February 16 -- are devoid of cheating incidents.
LUCKNOW: In a bid to ensure that the Uttar Pradesh board exams are conducted in a free and fair manner without any cheating, chief minister Yogi Adityanath has directed the Board of Secondary Education to ensure that in-house teachers don't make up for more that 50% of invigilators at examination centres. Instead, outside teachers should be kept on duty to ensure that the upcoming board examinations -- starting on February 16 -- are devoid of cheating incidents.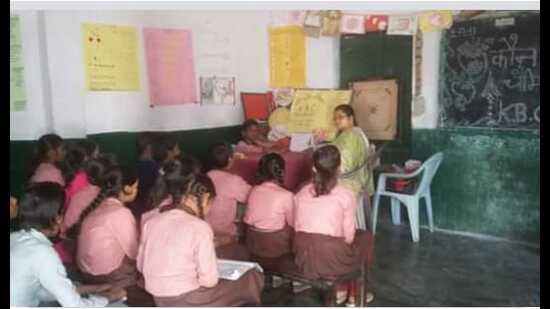 Also, just like students, invigilators will not be allowed to use mobile, calculator or any other electronic device during the examination. Besides, no girl examinee will be frisked by a male invigilator. The guidelines further state that female invigilators will be deployed at centres where examination of girls are held. No teacher shall be appointed at a particular examination centre on his/her request for vested interest.
ALSO READ: Yogi for campaign to restore desecrated religious places
According to the secretary of the Board of Secondary Education, Divyakant Shukla, each examination hall will have two invigilators while those having more than 40 students will have three invigilators. In the absence of the required number of invigilators at an exam centre, appointments will be made on seniority basis. Priority is to be given to the secondary teachers in this context.
The guidelines also state that no invigilator, whose acquaintances and relatives are taking the examination, will be posted at that particular examination centre. The list of teachers for deployment as invigilators at examination centres will be prepared by the concerned school principal or centre administrator and sent to the district inspector of schools.
To conduct free and fair examinations, it has been decided that in the high school and intermediate examinations of the council, teachers of the schools whose students are appearing at that centre will not be deployed there. Similarly, the teachers of the schools run under the same management system will not be assigned the duty of invigilator at the prescribed examination centres.
ALSO READ: Yogi Adityanath is best chief minister; Kejriwal, Mamata next in list: Survey
Invigilators will also have to ensure confidentiality and security of the question papers as well as see to it that the candidates do not enter the examination hall with any material for copying, mobile phone, calculator, or any such electronic device. The invigilator will inspect the examination hall and ensure that there is no text material, poster, chart, written instructions on the black board, which could be beneficial for the examinees.
For students of Class 10th, the board exams would culminate on March 3 for Class 12th students on March 4.