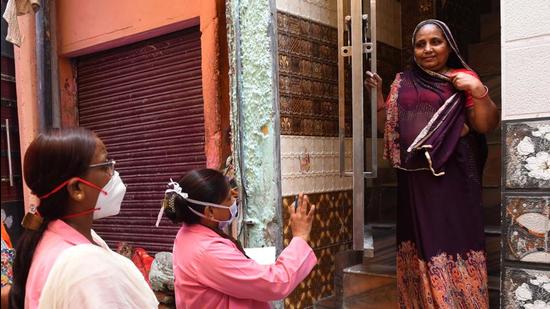 ASHA workers in Bengal's Darjeeling threaten to stop work if not paid on time
On Tuesday, they staged a demonstration in front of the Siliguri Municipal Corporation (SMC) office and submitted a nine-point charter of demands which include timely payment of their honorarium
PUBLISHED ON JUL 29, 2021 09:24 AM IST
A large section of Accredited Social Health Activists (ASHA) in Darjeeling district of West Bengal has threatened to stop work if their honorarium is not paid on time.
On Tuesday, they staged a demonstration in front of the Siliguri Municipal Corporation (SMC) office and submitted a nine-point charter of demands which include timely payment of their honorarium.
Sefali Bhattacharya, secretary of Health Workers Union, SMC said, "Though we risk our lives and work hard amid the Covid-19 pandemic, we have to beg for our honorarium. We have not yet received June's money. Why should we plead for the money we are entitled to?"
Also Read | Study says Covid-19 lockdown negatively impacted women's nutrition in India
There are 216 ASHA workers and 35 first tier supervisors in Siliguri town. They have been working as frontline workers in reaching out to people in the fight against Covid-19.
Bhattacharya said, "If we are not paid on time, we will stop our work."
This comes at a time when the Darjeeling district administration has been reporting a spike in daily Covid cases. "The daily count of Covid-19 cases has been the highest in Darjeeling among the districts in north Bengal over the past few days. On Wednesday, out of the 815 new cases reported in West Bengal, 62 were from Darjeeling," said a health official from the district.
The demands of ASHA workers include vaccination for their families and ₹1 lakh for Covid-19 treatment. ASHA workers in Mirik block also demonstrated last week demanding a timely payment.
SMC commissioner Sonam W Bhutia said: "We have already prepared the bill and they should be getting their money in a day or two."
Praloy Acharya, chief medical officer of health Darjeeling district, said, "There are about 550 ASHA workers in the entire district. There are some problems in regard to their payment under urban areas, but in the rural belt, they are paid on time."
Close