Assam police arrest 2044 in crackdown against child marriage in state
Feb 04, 2023 03:06 PM IST
According to government figures till Thursday, the highest number of cases (370) were lodged in the Dhubri district followed by Hojai (255). Hailakandi district was at the bottom with just one case
In the biggest crackdown against child marriages in the state which began Thursday, Assam police so far claimed to have registered over 4000 cases and arrested more than 2000 persons in the last two days, state officials said on Friday.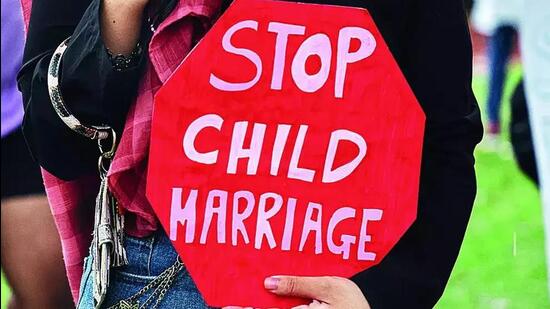 Addressing a press conference in Guwahati, director general of police (DGP) GP Singh informed that the massive crackdown and subsequent legal action follow directions from chief minister Himanta Biswa Sarma to end the illegal practice.
"About two months back, the CM directed Assam police that he received inputs that child marriage is rampant in parts of Assam and directed police to carry out an inquiry," said Singh.
Also Read: Over 4,000 cases lodged as part of campaign against child marriages in Assam
Following this, district police chiefs were told to get in touch with village elders, chiefs of various communities and village defence personnel to find out about the instances of child marriages in the state.
"We collected data for three years beginning in 2020. Based on that, during the last two days, we have registered 4074 cases in different districts. We started taking action from Thursday and till 3pm on Friday, we arrested 2044 people from different districts," said Singh.
"Among those arrested are 52 priests, qazis and sermonises responsible for conducting child marriages," said Singh.
He added that most of the arrests were from Biswanath, Dhubri, Barpeta, Kokrajhar and Baksa districts. Singh said there have been instances where police found that girls as young as 11, 12 and 13 years were married off, had become pregnant and went through medical complications.
Singh said that while police are making arrests, district authorities in association with the social welfare department were entrusted with the task of ensuring that women and children don't face any problems due to the campaign.
According to government figures till Thursday, the highest number of cases (370) were lodged in the Dhubri district followed by Hojai (255). Hailakandi district was at the bottom with just one case.
Also Read: 'Why take only...': Women protest Assam govt's crackdown on child marriages
On January 23, the Assam cabinet approved a massive police crackdown on child marriages. The decision was taken as the National Family Health Survey-5 (NFHS-5) carried out between 2019 and 2020 which showed that the percentage of women aged between 20-24 years who were married before the legal age of 18 years in the northeastern state was 31.8% against the national figure of 23.3%.
NFHS-5 showed that 11.7% of women aged between 15-19 years who were married were already mothers or pregnant during the period of the survey (compared to the national figure of 6.8%).
As per NFHS-4 carried out in 2015 and 2016, the percentage of child marriages in Assam was 30.8% against the national figure of 26.8%. The percentage of women in Assam between 15-19 years, who were mothers or pregnant was 13.6% against the national figure of 7.9%.