2022 ASER report: Attendance in Bihar schools far below national average despite incentives
Jan 18, 2023 10:13 PM IST
The report, led by Pratham Foundation, has also flagged high prevalence of private tuition, which is nearly 2.5 times the national average and points to lack of quality education in the government schools.
Despite improvement in infrastructure, midday meal coverage, facilities and increase in enrolment, Bihar continues to grapple with low attendance of both students and teachers in schools and learning outcome is extremely low and almost unchanged in the last four years, says the annual status of education report (ASER) – 2022, released on Wednesday.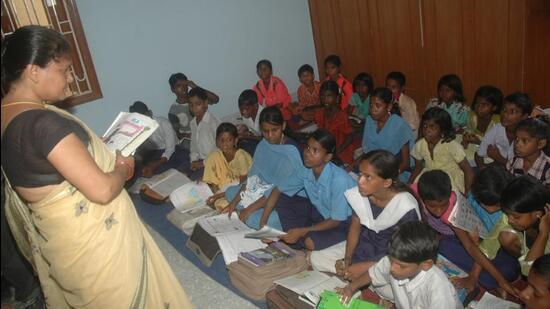 The report, led by Pratham Foundation, has also flagged high prevalence of private tuition, which is nearly 2.5 times the national average and points to lack of quality education in the government schools.
The report, which covered 52,959 children across 1,140 villages in 38 districts of Bihar, has recommended big changes in practice, appropriate activities and high effort in the classroom to achieve universal basic foundational literacy and numeracy by the time the students complete Grade III by 2025. "There is an urgent need for 'catch up' in Grades III and above (all the way through upper primary grades) for ensuring foundational literacy and numeracy throughout the elementary stage," it says.
The report says students' attendance in Bihar is below 60% in both primary and upper primary schools, as compared to the national average of around 72%, though the state witnessed 4% increase in government school enrolment between 2018 and 2022, reaching 82.2% from 78.1%. "Over the years, Bihar has shown big decline in out of school numbers for older children. The number of 15-16-year-old girls not enrolled in school has fallen to 6.7% in 2022 from 28.2% in 2006," it says.
The attendance in primary schools increased marginally from 56.5% in 2018 to 59.3% in 2022, while the national average was 72.9%. The teachers' attendance in primary schools showed higher increase during the period from 68.5% to 80.9%, but still below the national average of 86.8%. The trend was similar in upper primary, where students' attendance increased from 52.9% to 53.3% during the period against the national average of 71.3%, while teachers attendance increased by 11% points to reach 84%, though still below the national average of 87.5%.
Bihar is among the few states which has shown slight learning gains despite school closures forced by the Covid pandemic. "However, in 2022, only 13% children in Std III in govt schools could read Std II level text. This figure is 37% for children in govt schools in Std V, 70% in Std VIII. For Std V, reading levels of govt school children in Bihar lag behind the national average and most neighbouring states," says the report, adding Bihar has just 20% children enrolled in private schools and they seem to do better, though they too grapple with poor learning outcomes.
In arithmetic levels, Bihar has done better than the national average and all neighbouring states, but still just 30% children in Std V in government schools can do division while this number stands at 58% for Std VIII.
In Bihar, tuition levels have been found to be among the highest in India and have increased between 2018 and 2022. Students from both government and private schools seem to be affected by it. Against the nation average of 30.5% students going in for paid tuition, it is 71.7% in Bihar, while it was 53.6% in 2014, 64.3% in 2020 and 73.5% in 2021 (the worst pandemic year).
Govt making efforts
Additional chief secretary (education) Dipak Kumar Singh said that the government is making a lot of efforts to improve the scenario and the results would show. "We have provided new teaching-learning materials to make classes more entertaining so that the students could feel tempted to go to schools. The newly appointed 42,000-odd teachers have been imparted residential training with focus on assessment and learning outcomes of the students. We have introduced 'Bagless Saturday' in schools for extra-curricular activities and involved parents with schools through regular parent-teacher meets. As far as high incidence of tuition is concerned, it is directly related to quality of education in schools. With focus on quality, things will improve," he said.
What do numbers imply
Dr Rukmini Banerji, chief executive officer (CEO) of the Pratham Educational Foundation, who was awarded the 2021 Yidan Prize for Education Development for her work in improving learning outcomes, said ASER 2022 contains thought provoking data for Bihar, throwing up some conundrums.
"Despite close to 98% enrolment of children in the age group 6 to 14, with distinct shift towards government schools where enrolment has risen from 78.1% in 2018 to 82.2% by 2022, attendance patterns remain worryingly low. These figures make Bihar one of the lowest attendance states in the country. Enrolment is accompanied by inputs and entitlements. But unless children attend school regularly, how will they learn?" she said.
Second, Banerji said, ASER data for Bihar reveals another set of interesting patterns between 2018 and 2022. "While private schooling has gone down, the proportion of children attending tuition classes has gone up significantly, from 62.2% in 2018 to 71.7% in 2022. If the decline in private schooling is at least partly due to economic difficulties at home, then how are families able to afford tuition? Is the "tuition" sector more variable, flexible and more local? At the same time, despite two years of school closure, learning level showed small gains for basic reading between 2018 and 2022 for most grades and larger gains for basic arithmetic for across grades. It should be remembered that even in pre-Covid times, less than 13% children in government schools were at "grade level" in Std III and less than 40% of children in government schools in Std V were able to read Std II level text. Then and now, children need urgent help to catch up," she said.
According to Banerji, children are learning even when schools are closed. While government is spending funds on schools, families are incurring private expenditure by sending children to tuition classes. But the overall learning trajectories are low.
ASER 2022 data compels us to think about what Bihar should do next? To ensure high attendance, classroom interactions in government schools cannot be "business as usual"; they have to be energetic and targeted to the learning level of the child. Progress must be measured and course corrections done accordingly. Far too much time has been lost by not acknowledging that we are facing a chronic and deep learning crisis. A closer look at the vast and varied "tuition" sector is needed to understand what value this sector adds to children's learning.