Bihar: Trainers, coaching institutes wary of Agnipath impact
Updated on Jun 28, 2022 08:39 AM IST
Coaching institutes across Bihar are not yet convinced about the Centre's Agnipath scheme as they feel the candidates' interest could wane with the four-year rider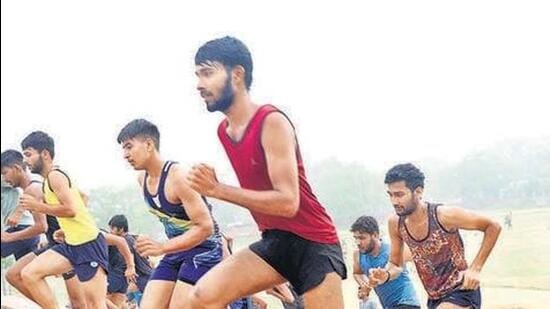 The Centre's Agnipath scheme for recruitment in the armed forces has evoked mixed responses ever since it was announced by the government. There is now disappointment among group of trainers and coaching institutes in Bihar engaged in mentoring students for their career paths.
"We feel the candidates' interest will wane with the four-year rider in the Agnipath scheme and that will have a direct impact on the coaching and training institutes. The candidates are still uncertain and that will get more pronounced in the coming days and months, as they will explore other options too," said Awinash Kumar, a retired defence personnel of Indian Air Force, who runs a coaching institute in Buxar Town.
Another one said that it was the pride, pension and job security attached with the jobs in the armed forces that attracted the youth in large numbers and made them slog for hours every day to achieve the desired physical abilities.
Also Read: Agnipath rocks Bihar Assembly, bill passed amid din
"Their parents never hesitated in backing their wards, even if it meant parting with their land or possession. Many of them also fell into the trap of touts to pay them hefty amounts in the hope of getting jobs in the armed forces. But now, an uncertain career or truncated tenure may not be as attractive for them," said Ranjan Dubey, who runs a coaching institute in Muzaffarpur.
Dubey said there was a fixed fee for various jobs - ₹12000 for clerk jobs and ₹10000 for GD-soldiers. "We are doubtful if the parents will invest in such fee for a four-year employment. We will have to see how to go about it," he added.
Rahul Kumar, who is from Ujiarpur (Samastipur), is a trainer for Army job aspirants.
"We impart training once the vacancies are out. Our institute has been shut for the last two years as there was no recruitment due to the COVID pandemic. Now we don't know how to go about it," he added.
Kanhaiya Pande, who is a physical instructor in Danapur's Defence Colony, said earlier the fee structure ranged from ₹10000-15000.
"Now, we have to see how things evolve. We will have to see if the students' interest remains unaffected. It has become a bit dicey at present, but we can do nothing," he added.
An Army job aspirant Ajit Kumar said the passion for the job was the main driving force.
"As long as the passion is there, parents will support their children. We will get a feel of Agniveer only after joining and experiencing it," he added.
Close Story
Personalise your news feed. Follow trending topics