Despite STAC guidelines, PMC fails to keep Pune roads pothole-free
Updated on Jul 29, 2021 04:41 PM IST
The road department accepted the fact that after a gap of four to five years, this year, more potholes have emerged in July. PMC officials attributed the scenario to the 24x7 water project and laying of cables by various agencies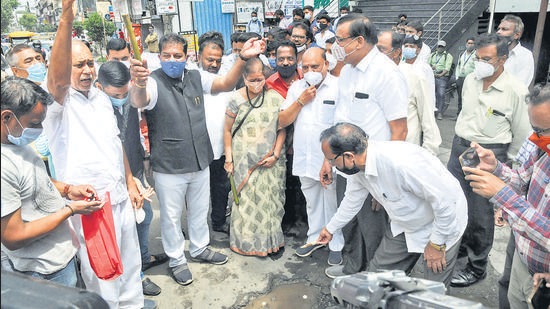 Despite a High Court's order, the STAC (Standing Technical Advisory Committee) report and Urban Street guidelines, the Pune Municipal Corporation (PMC) is failing to maintain the city's roads, with potholes frequently showing up, causing an inconvenience to citizens.
The road department accepted the fact that after a gap of four to five years, this year, more potholes have emerged in July. PMC officials attributed the scenario to the 24x7 water project and laying of cables by various agencies.
Civic activist Qaneez Sukhrani said, "I had filed a public interest litigation (PIL) against PMC over the pothole issue in 2006. The Bombay high court had directed the PMC to constitute a technical advisory committee of experts in the field of road engineering and construction, in order to advise the PMC on its road strategy."
The STAC committee was constituted by PMC in 2007. It took many years of the committee stopping and re-starting until the report was finalised in 2013.
Sukhrani said, "As a result of both orders, detailed matters relating to road design, construction, quality aspects, specifications, and maintenance management were laid down."
Vivek Velankar, a member of the STAC, said, "Despite having all the documents and technical guidance, the PMC is not following it. The contractors and officers are not bothered about resurfacing road works being carried out as per guidelines. They do shabby work and citizens become the victims."
Following heavy rains last week, most roads in the city, particularly in the peth areas, are laden with potholes.
According to head of the road department, VJ Kulkarni, as road digging happened on a massive scale due to development projects, roads are getting damaged. Once a road loses its original status, it's really difficult to retain it in a good condition.
"After the water project, we would need to take on a road project. We will need to chalk out a plan for more than Rs1,000 crore for roads, as almost 18,00km of roads are getting dug-up under this scheme," Kulkarni said.
Personalise your news feed. Follow trending topics