Revenue from property registrations 85.42% of target for FY 2022-23
Dec 20, 2022 11:28 PM IST
According to real estate developers, the number of property registrations and total revenue earnings show that the market has bounced back to normalcy post the COVID-19 era
With increased ready reckoner rates and stamp duty charges, the state property registration department (IGR) has registered 1,797,535 documents and earned an estimated revenue of ₹27,335.55 crore between April 1 and December 18, 2022, against a revenue target of ₹32,000 crore for this year, according to statistics shared by the IGR.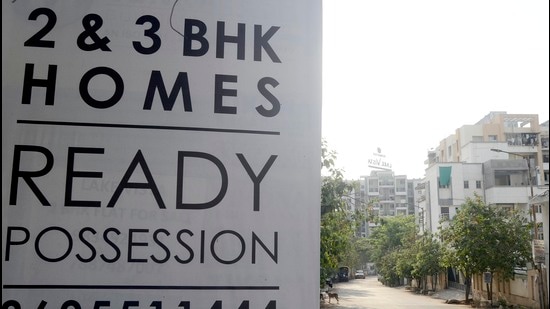 While the revenue earned so far is 85.42% of the ₹32,000 crore target for this financial year, it is less than FY 2021-22 wherein 3,265,048 documents were registered fetching revenue worth ₹17,962.39 crore, as per data shared by the IGR. However, officials expressed confidence about meeting the revenue target with more than three months to go for this financial year.
Whereas in FY 2020-21, as many as 2,077,620 documents were registered and revenue worth ₹16,955.34 crore was earned, according to the IGR.
The Confederation of Real Estate Developers' Association (CREDAI) and prominent real estate developers maintained that the market will get a further boost if the stamp duty is lowered. CREDAI state unit president said, "We had demanded reduction of stamp duty by the government which has not still happened. The market is buoyant and post Covid-19, has shown enormous gains which is a good sign. Still, there is a major chunk of property aspirants thinking of buying after stamp duty rates fall. We expect the government to take a positive decision regarding the same."
According to real estate developer Jehangir Dorabjee, the number of property registrations and total revenue earnings show that the market has bounced back to normalcy post the Covid-19 era. "However, we believe that further reduction in stamp duty can bring down prices and attract more buyers which will further boost the market prospects," Dorabjee said.
After the introduction of metro cess, stamp duty on property registrations in Pune and other metropolitan cities increased by 1%. Currently, stamp duty is 7% in Pune which is considered an expensive real estate market. Chief minister Eknath Shinde had asked real estate developers to furnish the CMO with petitions related to the reduction of stamp duty. Real estate developers were concerned that interest rate fluctuations would impact the property market and had sought the CMO's intervention in the matter. In August 2020, the Maharashtra government had reduced stamp duty on housing units by 3% to boost the real estate market that was battered by Covid-19. A major chunk of stamp duty revenue comes from property registrations in districts such as Mumbai, Thane, Pune, Palghar and Raigad.