Dalit woman who alleged rape by UP leader's son dies after fourth arrest
Updated on May 10, 2016 09:02 AM IST
When this 20-year-old died in the general ward of the LLR hospital on Monday morning, it was in absolute silence. The story of the woman's life was no different – both the police and their political masters had succeeded in stifling her voice since the day she was allegedly kidnapped and raped by the son of a local politician less than two years ago.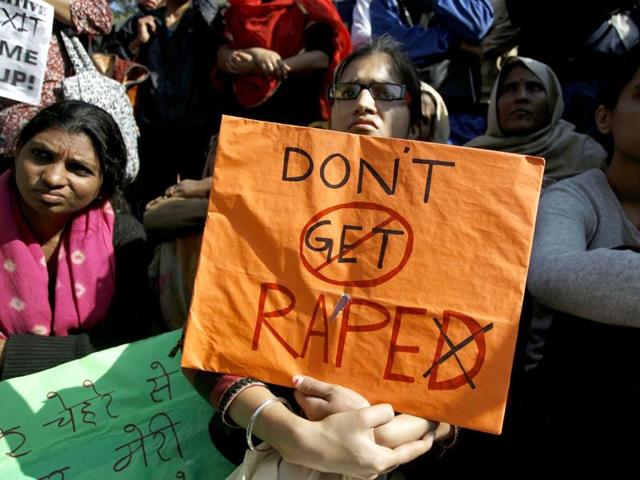 Hindustan Times |
, Kanpur
Haidar A Naqvi
A Dalit woman, who alleged that the son of an Uttar Pradesh politician abducted and raped her in 2014, was jailed three times and suffered fatal injuries when police arrested her a fourth time on April 29. The 20-year-old died on Monday morning.
She had alleged that Gurdeep, the son of BSP leader Mahendra Katiyar, abducted her on December 1, 2014, and repeatedly raped her in captivity before she managed to escape two days later.
Fearing for her safety, she went to Kamalgunj police station. "But they drove my daughter out, telling her to bring me along. They never registered a case against Gurdeep," her father said.
The father worked at a brick kiln of Katiyar in the Kamalgunj area of Farrukhabad district.
Four hours after she approached police, Gurdeep lodged a complaint alleging that she had stolen two cellphones, a pistol and a wallet from him. This time, police seemed too eager to uphold the law. The woman was arrested an hour later and sent to prison.
She got bail in March but was arrested again under the gangster act, imposed on the basis of Gurdeep's complaint. Police said she was a "lady don", affiliated to a gangster.
On July 14, 2015, she approached court to file a rape complaint against Gurdeep and an unidentified man. Though police registered a case, they quickly followed it up with a final report in court.
Later, they arrested her a third time, charging her with intimidation and blackmail.
The traumatised and scared woman took a social activist's help and met Kanpur DIG Neelabja Chowdhary on April 29 this year.
She told the DIG that the people she was fighting were powerful and it was only a matter of time before she was implicated in another fake case. "I have been sent to jail three times in my fight for justice. Please ensure a fair investigation in the case," she said in a written complaint.
After hearing her out, Chowdhary ordered an inquiry.
"We told him (the DIG) that she didn't have any criminal record before Gurdeep's case. We asked him to prosecute her if she is a criminal, or else give her justice," said Sanjeeba, the activist.
But hours after her meeting with the DIG, police arrested her on the charge of possessing 500 grams of charas, a narcotic.
"She was brutally tortured in police custody. When her condition deteriorated, they took her to the magistrate's house around midnight to place her in judicial remand," said a person known to the woman. "But she could not be sent to jail … So police took her to LLR Hospital in Kanpur."
Police dismissed the allegation. They said the woman was injured when she jumped out of a moving jeep. But they have failed to explain why she was produced before a magistrate at night, without the family being informed.
"She was conscious for two days at the hospital, before slipping into coma on May 4. Still, no magistrate came to record her statement," said Verma. "Her body bore tell-tale signs of being whipped."
The woman died of her injuries in the general ward of the government hospital.
"She had an injury on the right side of the head and the front that led to clotting in the brain and swelling," said neurosurgeon Gajendra Singh, who treated her.
The doctor said the woman was only partially conscious when she was admitted to the hospital. "She was shifted to a ventilator later."
Kamalgunj SHO Saligram Verma said the woman threatened him to release two arrested criminals on April 26. "I have the recording of that conversation. I got a case registered on April 29 and arrested her the same day. She was produced before the ADJ that night and remanded in judicial custody for 14 days. However, she jumped from the official jeep near the police lines and suffered fatal injuries," he said.
BSP strongman Katiyar did not want to speak on the allegations against his son. "I will not comment. The law is taking its own course," he said.
Read: Family, police pressure: Why most rape victims turn hostile during trial
Read: Only 12% of those charged with raping children convicted in Delhi
(Victim's name changed to protect her identity)